How I grow my business in the busy season of motherhood (and 3 mistakes to avoid)
Hey lovely,
I'm asked all the time how I do it: how do I grow my business, whilst being a present mama of three young kids. 
How did I start my business and get to this spacious, sustainable place I'm at now, whilst only working 3 days and prioritising my health and wellbeing? 
When I was asked this question again yesterday, I thought to myself hang on, I would love to address this really in-depth, to share what's helped me, and the 3 major mistakes women get caught up in when trying to cultivate a business that serves them too. So I made a video for you. 
Inside the video is what I wish for all women to know: whether you are a mum yourself (or intend to be), whether you just want to leave behind the hustle and embed a deep cyclical sustainable way of working, whether you're going through big changes in life that are urging you to make big changes and you're not sure how to move towards what you want, this is for you.
I might be in the very busy 'Mother' season of life but I am not martyring myself to the traditional gendered role of a Mother (read: being all things, to all people, at all times). This season of life, which for me has included growing three humans and a business, has taught me if nothing else….
That I don't want to do things the same way anyone else is. 
Because my measure of success is very different to anyone else's.
And so it should be. 
There are 3 key mistakes I see people making when they want to grow a business that nourishes, supports and sustains them. 
When growing a successful, soulful, sustainable business it's so important you focus on avoiding these 3 key mistakes, so I'm sharing what these are and how you can avoid them in this video.
I would LOVE you to have a watch because I know this is going to help you so much. Have a watch below…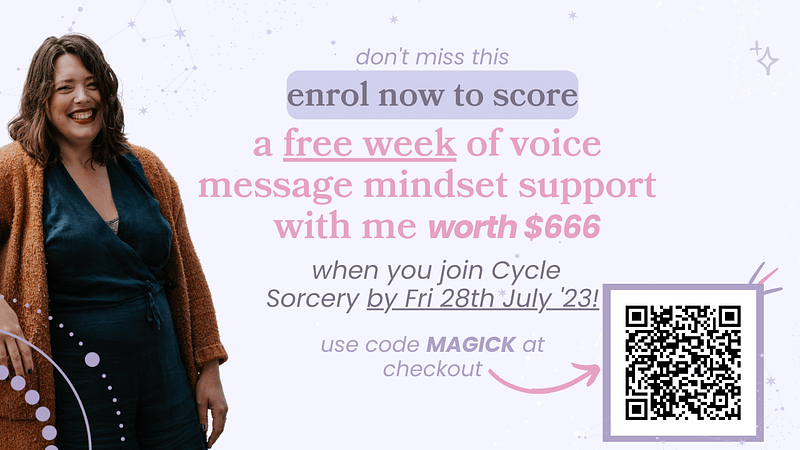 get the support, guidance and tools that will help and hold you in your journey of stepping fully into your power, purpose and magick. because your life and business is nothing without you in your power.
My group program Cycle Sorcery, is a loving, intimate circle of women all deepening their capacity to embody the leader and soulful coach, healer or space holder they're here to be.
Its a journey into the cycle mysteries so you can meet all of yourself, and create powerfully in a spacious, sustainable way that feels deeply aligned with honouring you: the whole woman. 
for 3 days only I am calling you to join us, to be held and guided deeply into the magick, mystery and your experience of the cycles through ritual, embodiment practices, cycle wisdom mapping, archetype work, music, creativity, coaching and soulful circles. 
cycle sorcery begins from 1st August – gift yourself the support you need to take deeply aligned and inspired action in a soulful, sustainable way, and to support you BIG I am offering this epic, flash bonus when you enrol by this Friday 28.7.23
PS: Use code 'MAGICK' to score a FREE WEEK of voice message support from me personally, worth $666, to use when you need to call in some powerful 1:1 deep mindset, embodiment or practical support to go from stuck to sovereign in your own transformation
Valid for the first 5 people to enrol until Friday this week (28th July 2023) only when you enrol here…
Don't wait around until the last minute, this is a HOT, very valuable offer, and will be gone in a flash. I'd love to see you in there, Charlotte xxx
tap into your body's power & cyclical wisdom to grow your soulful business with this epic bonus
What's included in cycle sorcery?
what people got out of cycle sorcery
charlotte facilitated a wonderfully supportive group space, where the beautiful and potent self-paced resources were so thoughtfully created and super powerful. charlotte was gentle and considerate as she guided us all back to ourselves and our inner witches! i am still integrating the learning. it's such powerful work. cycle sorcery was such a powerful programme, of women gathering to explore their inner landscapes and shed layers and share joys, held gracefully by our head witch! such a rich journey, highly recommended.​
Hannah Brown
Menstrual Cycle Coach - Womb Wisdom (UK)
cycle sorcery has been an amazing journey. charlotte took all of us through this deep dive into our selves, our seasons, our experience of how we show up in the world and how we can support ourselves in cyclical ways. it helped me connect deeper with myself. i will revisit all the materials that were provided to us - the workbooks, the shamanic journeys, the practices, the circles, and the coaching calls - again and again. each exploration uncovers a deeper aspect of knowledge, which just speaks to the quality of what charlotte provides. thank you so much for having me be a part of this journey, charlotte. it has been beautiful.
Shivani Jobanputra
Cycle Coach and Youth Mentor - Senself Coaching (Sri Lanka)
My time in cycle sorcery was so many things. It was grounding, magical, creative, healing, loving and connective. I got more in touch with my body and my creative process cyclically. I felt so held and supported by Charlotte and the incredible circle of women she brought in. I felt I could be vulnerable, raw, open and my true self. I loved being a part of this magical circle, it changed how I see my own creativity and how I approach it. Just a big thank you Charlotte, you held such an incredible space.
Addy Buck
Menstrual Cycle Coach - Inner Rhythm Cycles (AUS)