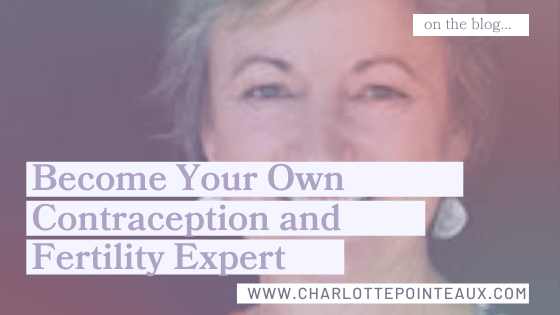 Become Your Own Contraception and Fertility Expert
Jane Bennett is a powerhouse in the menstrual education world. Having been working to support women and children with understanding their fertility and contraception naturally for many decades, she has empowered multiple generations to take back their bodies, and be well educated and informed to make informed choices for both understanding and supporting fertility, and contraception that doesn't need to involve taking hormonal birth control.
I loved meeting Jane for the first time – its such a perk of doing this podcast, I get to have conversations with people I admire, respect and have learned from such as Jane. We spoke about Jane's mission and journey to creating her legacy that she's built, what the different types of contraception are and how they work, why you might want to consider not taking hormonal birth control, how to come off birth control and what that might be like, and how we can share information with teens so they can make informed choices for themselves. 
LISTEN
If this episode lands with you, let me know! Your feedback, questions and aha moments help me create episodes that serve you, so drop me a message on Instagram or leave a review or rating!
If you love this kind of content, you're also invited to come and join my brand new free community – the Wild Flow Circle. It's a sacred space for women on the same path of cycle awareness to gather, share ideas, collaborate, and surround yourself with other inspiring women living, loving and leading in flow with their cyclical nature. Come join us here
About Jane
Jane Bennett Menstrual educator and author With a background in social work and clinical hypnotherapy Jane has worked with Natural Fertility Management since 1990. In 2000 Jane created Celebration Day for Girls, a program for 10-12 year-old girls with their mothers, and later Fathers Celebrating Daughters for dads. In 2012 she began to train facilitators to run these popular programs in their own communities, which are now available in over 25 countries. Jane is the author of A Blessing Not a Curse and Girltopia: A World of Real Conversations for Real Girls, and the co-author of About Bloody Time: The Menstrual Revolution We Have to Have, The Pill: Are You Sure It's For You?, The Complete Guide to Optimum Conception, The Natural Fertility Management Contraception Kit, The Rite Journey Program and Guidebooks and Woman Wise Conversation Cards. In 2017 Jane founded the Chalice Foundation, a not-for-profit social enterprise dedicated to menstrual wellbeing, education and positive menstrual culture, through which she works closely with the Victorian Women's Trust. Jane relishes life in the granite wilds of Central Victoria with her family.
Connect with Jane
On instagram at natural_fertility_management, celebrationdayforgirls, chalice foundation 
CONNECT WITH CHARLOTTE
love, 

Work with me
Curious about deep diving with me to create your own incredibly powerful cyclic framework for creativity, productivity and cyclic self-care?
I support soulful, creative entrepreneurial women to integrate cycle awareness into all the realms of your life, including your health, spiritual practice, parenting and creative business. Find out more and apply at here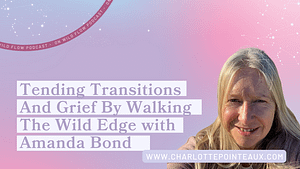 Today's guest on Wild Flow with Charlotte Pointeaux is Amanda Bond she is a wild edge walker, a woman living literally on the edge of a continent, who has met the edges of her identity, her roles as wife, mother and daughter, of her menstrual cycle, and the edge of the natural wild within her and around. 
Read More »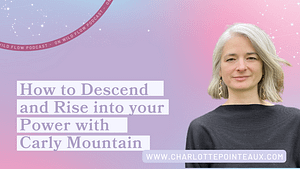 Todays guest on Wild Flow with Charlotte Pointeaux is Carly Mountain, she knows myth and what's involved to descend into the depths of the underworld where we face our darkest shadows and tallest hurdles, having discovered and recognised her and many others own life stories mirroring the great ancient myth of Inanna, Queen of heaven and earth who descended to the underworld to meet her sister Ereskigal, Queen of the Underworld after sacrificing all that she knew about herself and the world she inhabited, only to be struck dead immediately by her sister.
Read More »
I'm asked all the time how I do it: how do I grow my business, whilst being a present mama of three young kids. How did I start my business and get to this spacious, sustainable place I'm at now, whilst only working 3 days and prioritising my health and wellbeing?
When I was asked this question again yesterday, I thought to myself hang on, I would love to address this really in-depth, to share what's helped me, and the 3 major mistakes women get caught up in when trying to cultivate a business that serves them too. So I made a video for you.
Inside the video is what I wish for all women to know: whether you are a mum yourself (or intend to be), whether you just want to leave behind the hustle and embed a deep cyclical sustainable way of working, whether you're going through big changes in life that are urging you to make big changes and you're not sure how to move towards what you want, this is for you.
I might be in the very busy 'Mother' season of life but I am not martyring myself to the traditional gendered role of a Mother (read: being all things, to all people, at all times). This season of life, which for me has included growing three humans and a business, has taught me if nothing else….
That I don't want to do things the same way anyone else is.
Because my measure of success is very different to anyone else's.
And so it should be.
There are 3 key mistakes I see people making when they want to grow a business that nourishes, supports and sustains them.
When growing a successful, soulful, sustainable business it's so important you focus on avoiding these 3 key mistakes, so I'm sharing what these are and how you can avoid them in this video.
I would LOVE you to have a watch because I know this is going to help you so much.
Read More »