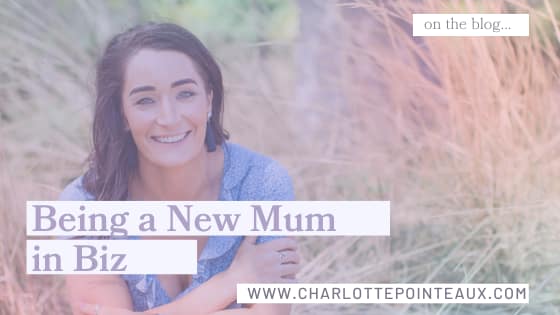 Changing Life Seasons: From Maiden To Mother In Life And Business
Falling pregnant just two months after quitting her secure job to go full time in her coaching business, then welcoming her baby five weeks early meant today's guest Jaci Rogash had to pivot quickly away from what she thought her business and life would look like, into something that honoured her time and energy to be given to her son and self as she underwent rebirth as a new mother.
What You'll Learn
How we honour the season of life we are in as women who value tending to our own needs, business owners with clients, and having young children and babies.

The rebirth we experienced in the rite of passage of birthing not just babies but ourselves as a Mother

What we held true before children, and what we let go of in the process of finding our true selves.

What success, our capacity and consistency looks like now as we make space for self, motherhood and as space holders for others.

How Jaci related to her cyclic nature when she was pregnant, and post-partum without her cycle.
LISTEN
If this episode lands with you, let me know! Your feedback, questions and aha moments help me create episodes that serve you, so drop me a message on Instagram or leave a review or rating!
If you love this kind of content, you're also invited to come and join my brand new free community – the Wild Flow Circle. It's a sacred space for women on the same path of cycle awareness to gather, share ideas, collaborate, and surround yourself with other inspiring women living, loving and leading in flow with their cyclical nature. Come join us here
About Jaci
Jaci Rogash is a Certified Transformation & Mindset Coach who works with game changers. The big hearted women who are ready to step into their fullest potential, but parts of their past are holding them back from embracing their true self.
Jaci grew up in country Victoria and is no stranger to trauma and adversity herself, having been the victim of bullying, sexual assault, family violence and stalking before the age of 24.
With 11 years experience working in trauma enforced roles, dealing with sexual assaults, family violence, mental health, grief and much more, Jaci now empowers her clients, to move through their self-doubt, self-sabotage, fear of judgement and unhealthy subconscious patterns so they can discover a genuine happiness they've never known, reignite their inner spark and ultimately discover their true self.
Jaci lives in Melbourne, Vic with her Partner Chris, their son Hunter and their fur-baby Billie Cat. While embracing new motherhood, Jaci is learning about a new cycle of life and loves adventure, sports and getting outdoors, which now feels like such a treat.
Connect with Jaci
CONNECT WITH CHARLOTTE
love, 

Work with me
Curious about deep diving with me to create your own incredibly powerful cyclic framework for creativity, productivity and cyclic self-care?
I support soulful, creative entrepreneurial women to integrate cycle awareness into all the realms of your life, including your health, spiritual practice, parenting and creative business. Find out more and apply at here 
What does money have to do with the menstrual cycle? It's surprising how much! This week's guest on Wild Flow Podcast with Charlotte Pointeaux is Cathy Lemire, The Menstrual Money Coach, is here to help us connect the dots between how our menstrual cycle influences our relationship, behaviours and attitudes around money, understand how our money stories play up across the phases of our cycle, and to take charge of our wealth!
Read More »
In today's new episode of Wild Flow Podcast we're talking about the myth of the inner critic with Melanie Swan.
Read More »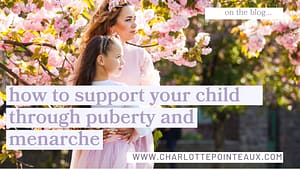 You've been learning about your menstrual cycle and how to attune to its changing daily strengths, vulnerabilities, and self-care needs – and it's been life changing to finally learn what you should have learnt as a child. So imagine how powerful it would be for our children to learn this knowledge and wisdom now – rather than having to figure it all out after many years of being disconnected to their body, their cycle and therefore, themselves. If you'd love to share what you now know with your child or any other child for that matter but aren't sure of when or how to start, I'd love to give you some ideas to help you do that confidently in a way that feels gentle, age-appropriate, and empowering for you and your child.
Many mothers have traditionally thought that children aren't ready to learn about their body, how it changes, what menstruation is, or anything else associated with puberty until they have their first period but when we leave "the talk" until this time, children already have a lot of feelings, thoughts and confusion about what's been happening to their body and sense of selves for a while, and they question what these changes mean about them if they are left in the dark.
Children in the playground talk and share information that's usually incomplete or inaccurate, leaving children to piece the story together themselves. Schools deliver education that's most often squashed down in one or two hours total to combine information on what periods are and how to manage blood, anatomy and how reproduction works which sends children the message that having periods means that falling pregnant is something to fear, and that when they begin their periods, they're ready to have sex, which is not the case at all from a developmental point of view.
When talking about periods is so uncomfortable, it continues the menstrual taboo that we have been victims of for millennia. So how do we cultivate a period positive culture?
Read More »