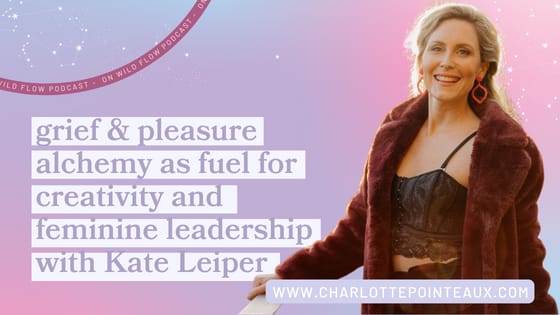 Grief isn't sexy but its a powerful presence in everyone's lives – so why don't we talk about it, welcome it and let it work us? Grief is all around us, in our lived experiences of losses and woundings, and it has the potential to break us open – if we have support and the capacity to meet it and come out changed the other side. Today's conversation is a rich, evocative, poetic and powerful exploration of grief, and pleasure and why we need to be better at meeting grief.
My guest today and our grief guide is a woman I had the absolute pleasure of being guided, held and introduced to the embodied experience of pleasure at a time I was knee-deep in motherhood and re-discovering myself as a mother of three, back in 2020, and needing to come home to myself on the other side of a big personal transformation. Allow me to introduce you to Kate Leiper.
Kate's story of loss and grief and how this cracked her open and called her home to herself,
Why we collectively are grief-illiterate, and unable to openly feel, express and own our grief or hold others in their pain and grief,
How we can express our grief even when it makes others uncomfortable.
How grief can be a portal through which we can grow our capacity to transmute pain of loss into pleasure,
How grief can fuel our creativity and a feminine style of leadership, and why the world needs leaders who are capable of meeting grief, and
How pleasure and grief can co-exist within us, and how we can meet these opposing emotions in us through embodiment work.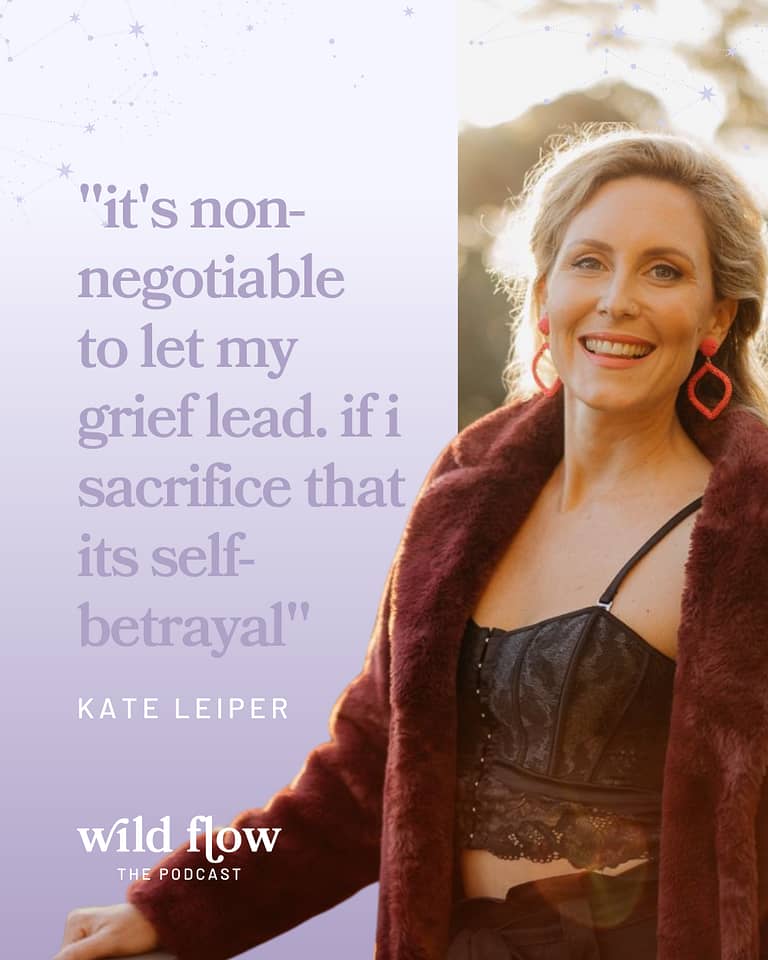 As Creatress of the SensuAlchemy School of Embodied Grief & Pleasure and the SensuAlchemy School Podcast, Kate completed a double degree in Drama and Education, a postgraduate and Masters degree in Counselling and Psychotherapy before she realised there was something big missing on her own path to healing.
Reflected in the struggles of her women client's, Kate too felt disconnected and distrusting of her body, stuck in a loop attempting to intellectually process years of sexual trauma and boundary ruptures. A longing to feel whole and reclaim personal power led her to the world of embodiment and somatics.
Alongside further studies in integrative trauma modalities and certifying as a Feminine Embodiment Coach, Kate navigated the devastating diagnosis, surgeries and eventual death of her younger sister to brain cancer in 2019.
This heartbreaking loss, plus a miscarriage and personal health crises, led Kate into developing a powerfully embodied, pleasure-oriented approach to grief and loss. Through the lens of the archetypal feminine, and with an emphasis on sensual movement, ritual and creative expression, Kate is devoted to sharing the healing gifts and leadership power of the SensuAlchemy Method to women all over the world.
SHARE THE LOVE
If this episode lands with you, let me know! Your feedback, questions and aha moments help me create episodes that serve you, so drop me a message on Instagram or leave a review or rating!
If you love this kind of content, you're also invited to come and join my brand new free community – the Wild Flow Circle. It's a sacred space for women on the same path of cycle awareness to gather, share ideas, collaborate, and surround yourself with other inspiring women living, loving and leading in flow with their cyclical nature. Come join us here
What does money have to do with the menstrual cycle? It's surprising how much! This week's guest on Wild Flow Podcast with Charlotte Pointeaux is Cathy Lemire, The Menstrual Money Coach, is here to help us connect the dots between how our menstrual cycle influences our relationship, behaviours and attitudes around money, understand how our money stories play up across the phases of our cycle, and to take charge of our wealth!
Read More »
In today's new episode of Wild Flow Podcast we're talking about the myth of the inner critic with Melanie Swan.
Read More »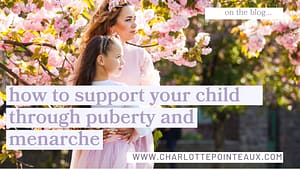 You've been learning about your menstrual cycle and how to attune to its changing daily strengths, vulnerabilities, and self-care needs – and it's been life changing to finally learn what you should have learnt as a child. So imagine how powerful it would be for our children to learn this knowledge and wisdom now – rather than having to figure it all out after many years of being disconnected to their body, their cycle and therefore, themselves. If you'd love to share what you now know with your child or any other child for that matter but aren't sure of when or how to start, I'd love to give you some ideas to help you do that confidently in a way that feels gentle, age-appropriate, and empowering for you and your child.
Many mothers have traditionally thought that children aren't ready to learn about their body, how it changes, what menstruation is, or anything else associated with puberty until they have their first period but when we leave "the talk" until this time, children already have a lot of feelings, thoughts and confusion about what's been happening to their body and sense of selves for a while, and they question what these changes mean about them if they are left in the dark.
Children in the playground talk and share information that's usually incomplete or inaccurate, leaving children to piece the story together themselves. Schools deliver education that's most often squashed down in one or two hours total to combine information on what periods are and how to manage blood, anatomy and how reproduction works which sends children the message that having periods means that falling pregnant is something to fear, and that when they begin their periods, they're ready to have sex, which is not the case at all from a developmental point of view.
When talking about periods is so uncomfortable, it continues the menstrual taboo that we have been victims of for millennia. So how do we cultivate a period positive culture?
Read More »