Winter Solstice….
Archetypes of the Crone, Midnight, your bleed. In the Peak darkness, and the cusp of new light. The void, liminal space, the in-between, neither here nor there. A time of having one foot in the past and one in the future. The end of the cycle also brings with it new beginnings. The start of the new cycle ahead.
I feel like it's akin to the new year – that moment we celebrate by looking back at all things experienced, endured, achieved, begun, completed – we notice all that has been and we give thanks for being where we are today. We look back and see the stepping stones that bought us to where we are right now in this present moment. And on the other hand, we can look forward, we can glimpse the possibilities, and feel the limitless opportunities that the new year/cycle may bring.
But we need to celebrate the ending and let that be, before diving into the new. In the southern hemisphere we're only mid-way through the year – so winter solstice brings a potent moment to reflect on how the year has been for us this far, and what we may wish to alter to course correct or further activate our first half year experience. It's a time to give thanks and acknowledge, and in duality, vision into what may come next.
Over the last fortnight, I have noticed many, many people experiencing this ending in profoundly felt ways. Solstice is a portal that can bring up a deep opportunity to heal, to feel, to grow.
To honour the solstice I invite you to explore your patterns and experiences of endings and beginnings.
❆ What does ending feel like to you? ❆ Where do you feel it in your body? ❆ How do you respond and move through endings?
❆ And with beginnings, how do you begin? Is there a pattern at play?
It's said that how we are born imprints us with the way in which we move through transitions, endings and beginnings, it imprints us with how we birth everything, including children, projects, businesses, and relationships.
I want you to..
❆ Take a moment to reflect on how both endings and beginnings feel to you.
❆ Have you been feeling the sense of ending/beginning with the solstice, or has this not felt true for you?
❆ Is there a patterning playing out through your life? It is said that how we are born imprints us with the way in which we move through transitions, endings and beginnings.

Create a spiral on the floor of your home or outside using any materials you like, perhaps rope, flowers, foliage, candles, rocks or other found or sacred objects.

When you are ready, walk your spiral slowly, consciously into the middle, taking an unlit candle with you as you go.

The walk-in = descent, the past.

When you arrive in the centre, give thanks for the wisdom of the past and endings that you have received. Give thanks for all that has served and supported you to be right here and now in the present moment.

Light your candle, which represents your inner knowing and the return of the light, and share the wisdom you will carry with you into this beginning, and state your vision for the future.

Walk back out of the spiral, which represents the ascent, the beginning, the return of the light, the future and takes a seat with your candle.

You might like to integrate this experience through meditation, movement, journaling, releasing all the ideas, beliefs, patterns that don't support you anymore, or another nourishing practice.
Et voila.
Blessings to you x
SHARE THE LOVE
If this blog lands with you, let me know! Your feedback, questions and aha moments help me create informative tips and content that serve you, so drop me a message on Instagram or listen to my Wild Flow Podcast for so much more on menstrual cycle awareness. 
If you love this kind of content, you're also invited to come and join my brand new free community – the Wild Flow Circle. It's a sacred space for women on the same path of cycle awareness to gather, share ideas, collaborate, and surround yourself with other inspiring women living, loving and leading in flow with their cyclical nature. Come join us here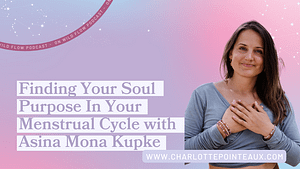 In today's new episode of Wild Flow Podcast I'm chatting with Asina Mona Kupke all about reconnecting to your cyclical nature to tap into your soul's purpose.
Read More »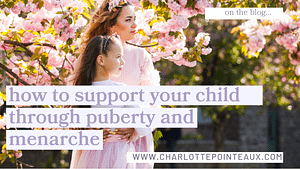 You've been learning about your menstrual cycle and how to attune to its changing daily strengths, vulnerabilities, and self-care needs – and it's been life changing to finally learn what you should have learnt as a child. So imagine how powerful it would be for our children to learn this knowledge and wisdom now – rather than having to figure it all out after many years of being disconnected to their body, their cycle and therefore, themselves. If you'd love to share what you now know with your child or any other child for that matter but aren't sure of when or how to start, I'd love to give you some ideas to help you do that confidently in a way that feels gentle, age-appropriate, and empowering for you and your child.
Many mothers have traditionally thought that children aren't ready to learn about their body, how it changes, what menstruation is, or anything else associated with puberty until they have their first period but when we leave "the talk" until this time, children already have a lot of feelings, thoughts and confusion about what's been happening to their body and sense of selves for a while, and they question what these changes mean about them if they are left in the dark.
Children in the playground talk and share information that's usually incomplete or inaccurate, leaving children to piece the story together themselves. Schools deliver education that's most often squashed down in one or two hours total to combine information on what periods are and how to manage blood, anatomy and how reproduction works which sends children the message that having periods means that falling pregnant is something to fear, and that when they begin their periods, they're ready to have sex, which is not the case at all from a developmental point of view.
When talking about periods is so uncomfortable, it continues the menstrual taboo that we have been victims of for millennia. So how do we cultivate a period positive culture?
Read More »
Today's guest on Wild Flow is here to expand the horizons on who gets to participate in menstrual cycle awareness, and to specifically include people who identify as neurodivergent, queer and those who aren't tapping into their body's rhythm for fertility purposes.
Read More »