Winter Solstice….
Archetypes of the Crone, Midnight, your bleed. In the Peak darkness, and the cusp of new light. The void, liminal space, the in-between, neither here nor there. A time of having one foot in the past and one in the future. The end of the cycle also brings with it new beginnings. The start of the new cycle ahead.
I feel like it's akin to the new year – that moment we celebrate by looking back at all things experienced, endured, achieved, begun, completed – we notice all that has been and we give thanks for being where we are today. We look back and see the stepping stones that bought us to where we are right now in this present moment. And on the other hand, we can look forward, we can glimpse the possibilities, and feel the limitless opportunities that the new year/cycle may bring.
But we need to celebrate the ending and let that be, before diving into the new. In the southern hemisphere we're only mid-way through the year – so winter solstice brings a potent moment to reflect on how the year has been for us this far, and what we may wish to alter to course correct or further activate our first half year experience. It's a time to give thanks and acknowledge, and in duality, vision into what may come next.
Over the last fortnight, I have noticed many, many people experiencing this ending in profoundly felt ways. Solstice is a portal that can bring up a deep opportunity to heal, to feel, to grow.
To honour the solstice I invite you to explore your patterns and experiences of endings and beginnings.
❆ What does ending feel like to you? ❆ Where do you feel it in your body? ❆ How do you respond and move through endings?
❆ And with beginnings, how do you begin? Is there a pattern at play?
It's said that how we are born imprints us with the way in which we move through transitions, endings and beginnings, it imprints us with how we birth everything, including children, projects, businesses, and relationships.
I want you to..
❆ Take a moment to reflect on how both endings and beginnings feel to you.
❆ Have you been feeling the sense of ending/beginning with the solstice, or has this not felt true for you?
❆ Is there a patterning playing out through your life? It is said that how we are born imprints us with the way in which we move through transitions, endings and beginnings.

Create a spiral on the floor of your home or outside using any materials you like, perhaps rope, flowers, foliage, candles, rocks or other found or sacred objects.

When you are ready, walk your spiral slowly, consciously into the middle, taking an unlit candle with you as you go.

The walk-in = descent, the past.

When you arrive in the centre, give thanks for the wisdom of the past and endings that you have received. Give thanks for all that has served and supported you to be right here and now in the present moment.

Light your candle, which represents your inner knowing and the return of the light, and share the wisdom you will carry with you into this beginning, and state your vision for the future.

Walk back out of the spiral, which represents the ascent, the beginning, the return of the light, the future and takes a seat with your candle.

You might like to integrate this experience through meditation, movement, journaling, releasing all the ideas, beliefs, patterns that don't support you anymore, or another nourishing practice.
Et voila.
Blessings to you x
SHARE THE LOVE
If this blog lands with you, let me know! Your feedback, questions and aha moments help me create informative tips and content that serve you, so drop me a message on Instagram or listen to my Wild Flow Podcast for so much more on menstrual cycle awareness. 
If you love this kind of content, you're also invited to come and join my brand new free community – the Wild Flow Circle. It's a sacred space for women on the same path of cycle awareness to gather, share ideas, collaborate, and surround yourself with other inspiring women living, loving and leading in flow with their cyclical nature. Come join us here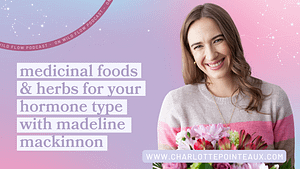 My guest on the new episode of Wild Flow podcast is Madeline MacKinnon who wants everyone to know that food truly is powerful medicine that can quickly improve your menstrual cycle symptoms and challenges which you've been putting up with, when you understand your underlying hormonal imbalance type and eat nourishing foods full of the right vitamins and nutrients that your body needs.
Read More »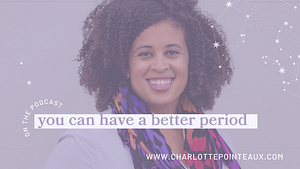 My guest on the new episode of Wild Flow podcast is Le'Nise Brothers a yoga teacher and registered nutritionist, mBANT, mCNHC, specialising in women's health, hormones and the menstrual cycle. Le'Nise works with women through their menstruating years, perimenopause, menopause and beyond. She set up her private nutrition practice Eat Love Move to help empower and educate women to understand their bodies, advocate for better healthcare and heal. If you're struggling with period problems, you might be wondering why some women love their period and menstrual cycle, and you might be questioning whether you too, can have a better period.
Read More »
My guest on the new episode of Wild Flow podcast is Nina Simons, Co-founder and Chief Relationship Officer at Bioneers, a nonprofit that features and connects practical and visionary solutions for transforming how we relate to ourselves, each other and the Earth. Nina is recipient of the Goi Peace Award, and throughout her career, she has worked with over a thousand women leaders who are diverse across disciplines, race, class, age and orientation to create conditions for mutual learning, trust and leadership development. She produces and speaks at large-scale events to work intimately to help small, diverse groups of women leaders knit together to strengthen each other's work pursuing intersectional healing and ecological justice. 
Read More »