how to exercise for your cycle and pregnancy with claire falconer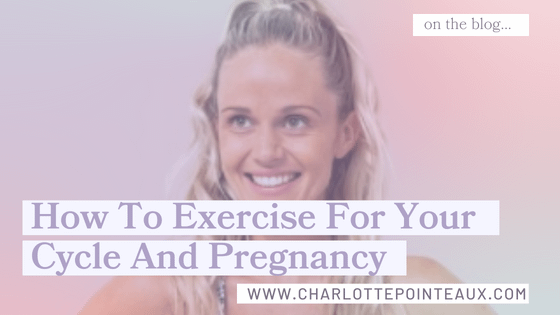 The fitness industry is built to serve men. Perhaps that doesn't surprise you if you're a regular listener, and today's guest Claire Falconer wants us to celebrate our biological difference as cyclical women, and to put our cycle front and centre of our exercise routines. Claire says that when you understand and work with your cycle, not only do results come quicker and more easily, but you avoid longer-term health issues that can come up from gymming like a dude.
Meet Claire
Claire Falconer is a personal trainer, yoga teacher and health coach with 15 years under her belt in the fitness industry. She's worked privately with hundreds of clients all over the world, and has developed a passion and specialism in women's health especially hormonal health, preconception, pregnancy and post natal women.
Claire studied functional medicine at the Institute of Functional Medicine in California under Dr, Mark Hyman, is certified with Precision Nutrition as a nutrition coach, is currently undertaking her degree in Health Sciences Naturopathy and is a certified Menstrual Coach from the Institute of Menstrual Health by Nicole Jardim. Self-described as a bit of a geek who always has her head in the current health & nutrition book Claire loves staying up to date and living a balanced life.
I personally loved this conversation and learnt so much myself about:
pelvic floor health,

working with our bodies in each menstrual cycle phase,

pregnancy, post-partum, and menopause.
I feel inspired to get back into a regular exercise routine! How about you? DM me on IG and share this episode on your stories, letting me know what you took.
Thank you so much Claire for chatting with us!
and on IG, Pinterest and YouTube at @coachedbyclaire. 
SHARE THE LOVE
If this episode lands with you, let me know! Your feedback, questions and aha moments help me create episodes that serve you, so drop me a message on Instagram or leave a review or rating!
If you love this kind of content, you're also invited to come and join my brand new free community – the Wild Flow Circle. It's a sacred space for women on the same path of cycle awareness to gather, share ideas, collaborate, and surround yourself with other inspiring women living, loving and leading in flow with their cyclical nature. Come join us here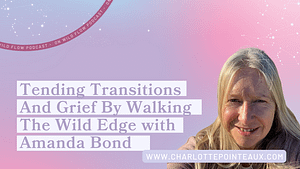 Today's guest on Wild Flow with Charlotte Pointeaux is Amanda Bond she is a wild edge walker, a woman living literally on the edge of a continent, who has met the edges of her identity, her roles as wife, mother and daughter, of her menstrual cycle, and the edge of the natural wild within her and around. 
Read More »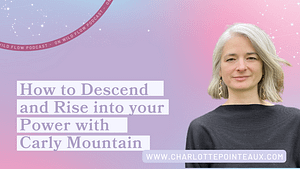 Todays guest on Wild Flow with Charlotte Pointeaux is Carly Mountain, she knows myth and what's involved to descend into the depths of the underworld where we face our darkest shadows and tallest hurdles, having discovered and recognised her and many others own life stories mirroring the great ancient myth of Inanna, Queen of heaven and earth who descended to the underworld to meet her sister Ereskigal, Queen of the Underworld after sacrificing all that she knew about herself and the world she inhabited, only to be struck dead immediately by her sister.
Read More »
I'm asked all the time how I do it: how do I grow my business, whilst being a present mama of three young kids. How did I start my business and get to this spacious, sustainable place I'm at now, whilst only working 3 days and prioritising my health and wellbeing?
When I was asked this question again yesterday, I thought to myself hang on, I would love to address this really in-depth, to share what's helped me, and the 3 major mistakes women get caught up in when trying to cultivate a business that serves them too. So I made a video for you.
Inside the video is what I wish for all women to know: whether you are a mum yourself (or intend to be), whether you just want to leave behind the hustle and embed a deep cyclical sustainable way of working, whether you're going through big changes in life that are urging you to make big changes and you're not sure how to move towards what you want, this is for you.
I might be in the very busy 'Mother' season of life but I am not martyring myself to the traditional gendered role of a Mother (read: being all things, to all people, at all times). This season of life, which for me has included growing three humans and a business, has taught me if nothing else….
That I don't want to do things the same way anyone else is.
Because my measure of success is very different to anyone else's.
And so it should be.
There are 3 key mistakes I see people making when they want to grow a business that nourishes, supports and sustains them.
When growing a successful, soulful, sustainable business it's so important you focus on avoiding these 3 key mistakes, so I'm sharing what these are and how you can avoid them in this video.
I would LOVE you to have a watch because I know this is going to help you so much.
Read More »