how to exercise for your cycle and pregnancy with claire falconer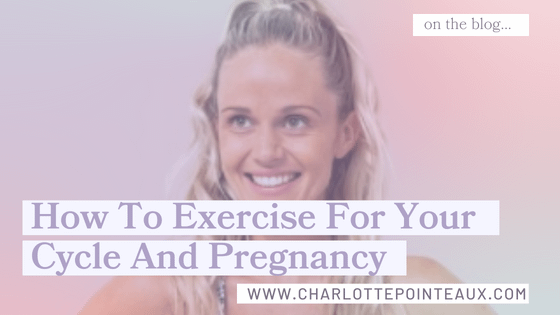 The fitness industry is built to serve men. Perhaps that doesn't surprise you if you're a regular listener, and today's guest Claire Falconer wants us to celebrate our biological difference as cyclical women, and to put our cycle front and centre of our exercise routines. Claire says that when you understand and work with your cycle, not only do results come quicker and more easily, but you avoid longer-term health issues that can come up from gymming like a dude.
Meet Claire
Claire Falconer is a personal trainer, yoga teacher and health coach with 15 years under her belt in the fitness industry. She's worked privately with hundreds of clients all over the world, and has developed a passion and specialism in women's health especially hormonal health, preconception, pregnancy and post natal women.
Claire studied functional medicine at the Institute of Functional Medicine in California under Dr, Mark Hyman, is certified with Precision Nutrition as a nutrition coach, is currently undertaking her degree in Health Sciences Naturopathy and is a certified Menstrual Coach from the Institute of Menstrual Health by Nicole Jardim. Self-described as a bit of a geek who always has her head in the current health & nutrition book Claire loves staying up to date and living a balanced life.
I personally loved this conversation and learnt so much myself about:
pelvic floor health,

working with our bodies in each menstrual cycle phase,

pregnancy, post-partum, and menopause.
I feel inspired to get back into a regular exercise routine! How about you? DM me on IG and share this episode on your stories, letting me know what you took.
Thank you so much Claire for chatting with us!
and on IG, Pinterest and YouTube at @coachedbyclaire. 
SHARE THE LOVE
If this episode lands with you, let me know! Your feedback, questions and aha moments help me create episodes that serve you, so drop me a message on Instagram or leave a review or rating!
If you love this kind of content, you're also invited to come and join my brand new free community – the Wild Flow Circle. It's a sacred space for women on the same path of cycle awareness to gather, share ideas, collaborate, and surround yourself with other inspiring women living, loving and leading in flow with their cyclical nature. Come join us here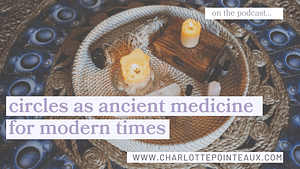 It's safe to say that sacred women's circles are making a big come back. No longer lost ancient forms of gathering in community, circles are now becoming increasingly available around the world as an opportunity to gather with shared intention, possibly to meet new friends, devote time to spiritual practice, to experience particular ceremony. Whatever happens and whoever you meet, you are sure to come home to yourself. The way of the circle offers us a very different form of connection and community in which we can come to understand ourselves and each other- and to find the magick and medicine we need at the time.
Circles are an ancient way of life, but are now being held in towns everywhere, in schools, board rooms, and online, and they have the potential to support healing and transformation of communities on many levels. I believe that when you attend your first Circle, you awaken to a new way of relating and being, and its addictive.
My first ever circle was with today's guest Mitlé Southey in 2018, when I attended her 3 day circle facilitator training, and that immersive experience changed me deeply, and revealed a deeper path forward for me personally in my own healing, as well as in my work that I do. I'm overjoyed to welcome MItlé to the podcast, and to share with you a delicious conversation about:
What circles are, and what may happen in a circle,
Our first circle experiences, and how they shaped our lives,
How circles are medicinal, transformative experiences that can set deep healing in motion,
Why receiving guidance and training in how to hold circles is an important consideration as space holders,
How circles are available for all people, and how the circle process can be imbued into our work, lives, and relationships,
The role circles can play in rites of passage processes for all people, and how Mitlé is hosting Mother-Son circles, and I am host Mother-Daughter circles particularly. Listen in to Episode 60 of Wild Flow, and share with us 3 words that encapsulate your first ever circle experience! xxx
Read More »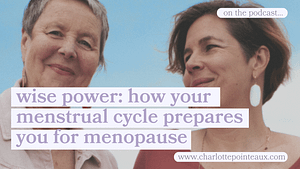 Your menstrual cycle is teaching you how to work with your inner power, ready to become a wise woman at menopause. The wise women founders of Red School Alexandra Pope and Sjanie Hugo Wurlitzer have released their cutting edge book Wise Power: Discover the Liberating Power of Menopause to Awaken Authority, Purpose and Belonging. I'm THRILLED to have had the opportunity to chat with the authors and Menstruality leaders about how we can practice menstrual cycle awareness as a lifestyle that ultimately builds our self-trust, resilience, and capacity for presence, so that when the time comes, we can surrender, die and be reborn through the "mother of all initiations" that is Menopause.
Read More »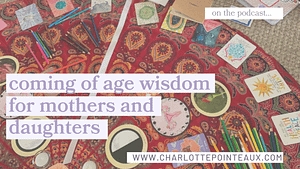 imagine a world where mothers were given sacred space to welcome their daughters intentionally into their coming of age rite of passage. and where girls were welcomed into circle with other mothers and daughters to find deep wisdom, loving support and a chance to experience true sisterhood all before their 13th birthday. there is a place on earth: it's called the seeding wisdom journey held annually in the illawarra (nsw) by wise women arahni lion and jo rockendorfer. If you've ever wished you were more supported, more seen and heard, more understood and respected in your own maiden years, this is a truly special way of healing that part of you, and to give your child the best start to a conscious, empowered, embodied and connected womanhood. I know that when my daughters are of age, we will be taking the journey together, one by one.
Arahni and Jo share the story of why and how they created this potent experience, what happens within the journey, and why this kind of initiatory journey is needed now, more than ever.
Read More »