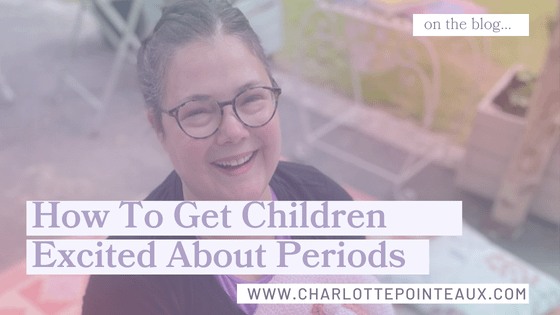 Beth Moxon's favourite topic is, you guessed it, PERIODS, which I am totally here for! Beth channels her inner fire to ensure that menstrual shame is a thing of the past. She is a powerhouse who is educating her own community through holding First Moon Circles, and is starting big conversations on TikTok where a huge proportion of children now receive their menstrual education.
Meet Beth
Beth Moxon is a cyclical living guide in East Sussex, England, a qualified and highly experienced secondary school teacher who now trains teachers.  She is a certified Cycle Coach and First Moon Circle facilitator and has extensive experience holding space for young people and adults. She is highly skilled and knowledgeable in all things menstruality related and loves to share her passion and knowledge by running local First Moon Circles. She has two little daughters who keep her busy during the times when she's not thinking about periods!
The different 'tell' signs our bodies give us 24h before we start bleeding,

Why Beth doesn't believe in resting for the whole period, how she shows up for a podcast on Cycle Day 2, and how she supports herself through it instead,

Beth's story and journey to doing the amazing work she does today,

Her perspective of the (UK) school period education guidelines, the limitations schools are under, changing the perspective that schools need to cover it all, and how she is stepping up to contribute another layering of education for children and parents.

Her vision for children and the right she believes all children have to a high quality, empowering menstrual education,

The power of language, and how we perpetuate menstrual shame without realising it through the words we use,

We share memories of both being teenage swimmers who feared the erroneous tampon string, and other stories of hiding periods in schools,

How Beth is taking on TikTok to reach a wider audience, so she can educate adults and children, 

and so much more….. 
SHARE THE LOVE
If this episode lands with you, let me know! Your feedback, questions and aha moments help me create episodes that serve you, so drop me a message on Instagram or leave a review or rating!
If you love this kind of content, you're also invited to come and join my brand new free community – the Wild Flow Circle. It's a sacred space for women on the same path of cycle awareness to gather, share ideas, collaborate, and surround yourself with other inspiring women living, loving and leading in flow with their cyclical nature. Come join us here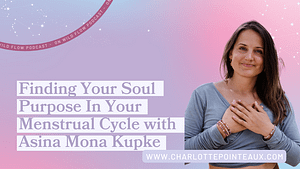 In today's new episode of Wild Flow Podcast I'm chatting with Asina Mona Kupke all about reconnecting to your cyclical nature to tap into your soul's purpose.
Read More »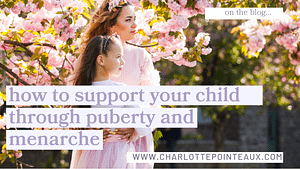 You've been learning about your menstrual cycle and how to attune to its changing daily strengths, vulnerabilities, and self-care needs – and it's been life changing to finally learn what you should have learnt as a child. So imagine how powerful it would be for our children to learn this knowledge and wisdom now – rather than having to figure it all out after many years of being disconnected to their body, their cycle and therefore, themselves. If you'd love to share what you now know with your child or any other child for that matter but aren't sure of when or how to start, I'd love to give you some ideas to help you do that confidently in a way that feels gentle, age-appropriate, and empowering for you and your child.
Many mothers have traditionally thought that children aren't ready to learn about their body, how it changes, what menstruation is, or anything else associated with puberty until they have their first period but when we leave "the talk" until this time, children already have a lot of feelings, thoughts and confusion about what's been happening to their body and sense of selves for a while, and they question what these changes mean about them if they are left in the dark.
Children in the playground talk and share information that's usually incomplete or inaccurate, leaving children to piece the story together themselves. Schools deliver education that's most often squashed down in one or two hours total to combine information on what periods are and how to manage blood, anatomy and how reproduction works which sends children the message that having periods means that falling pregnant is something to fear, and that when they begin their periods, they're ready to have sex, which is not the case at all from a developmental point of view.
When talking about periods is so uncomfortable, it continues the menstrual taboo that we have been victims of for millennia. So how do we cultivate a period positive culture?
Read More »
Today's guest on Wild Flow is here to expand the horizons on who gets to participate in menstrual cycle awareness, and to specifically include people who identify as neurodivergent, queer and those who aren't tapping into their body's rhythm for fertility purposes.
Read More »