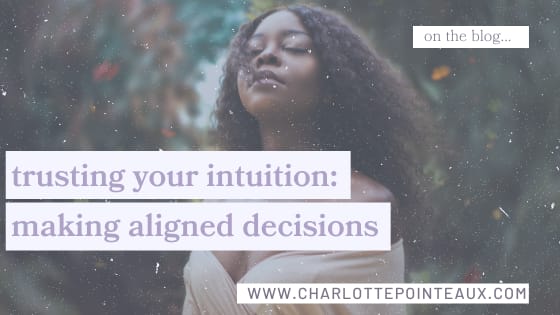 Intuition….. what is it? 
To me, intuition is a body-based knowing that may have an awareness that our mind can't reach or explain, and it often knows our absolute truth when our mind is. trying to keep us fitting in and safe.
"gut instinct", "hunch" or "a deep knowing" are ways its been described before.
You know, that feeling you get in your body that tells you whether something feels really good, or if it's making us nervous? The body is very clever – it gives us messages about what we really think is good or bad, right or wrong for us.
This inner knowing is very powerful to cultivate. It's the body's way of speaking to us, communicating how we really feel about something. How WE really feel… not anyone else.
It's like our inner compass, our Sat Nav, our Google Maps. It's telling us the way to go, or whether to say "Yes" or "No". It's always there inside us, guiding us. Sometimes it's a whisper and we struggle to hear it, and sometimes it's SO LOUD we really can't ignore it even if we try to.
Yes, Your body Is Talking To You…
Often other people's opinions, like our friends, partners, parents, family or colleagues can influence us. External expectations and pressures cloud our understanding of what we feel, think, like and don't like and we can end up thinking or doing what others tell us to instead of following our own intuition and doing what feels right for us.
The need to please others above ourselves can mean sometimes we end up getting ourselves into a position that we didn't want to be in. And really, we already know that these things don't make us feel good, don't we, because our bodies are telling us.
So how does our body tell us if something doesn't feel right? From getting sweaty palms, wobbly tummies, feeling like our throats are closing up so we can't talk, getting the shakes in our bodies… it can feel a bit different for every person, but ultimately our bodies feel all off. Have you felt this before?
How I do listen to my intuition?
The trick is, when we have to make a decision about what to do in any given situation, we need to stop, and listen to our intuition. But how, you ask? By getting quiet, slowing down, and seeing how our bodies feel when we think about the decision we have to make.
I'd love to share with you my process for building sensitivity to intuition, so you can build trust in your judgement, decision-making capability, and ability to hold boundaries. 
Using Intuition To Make The Right Choices
 You're deciding whether to launch something new in your business because it makes great sense strategically. However you're not sure if it is the right time for you, right now.
Option A or Option B: which feels better?
You're thinking about what to do – do you:
A) You dive headlong into a busy launch process, deciding to go ahead and make the most of the opportunity. You can picture the timeframe, the deadlines, the admin, promotion and intense action before you even start delivering the experience. You see the people joining, the income, the expanding your business and the business growth.
B) You are mulling over this decision for another cycle to let it sink in and feel into whether this is the right way to deliver it. There is a lot happening in your life and business already and committing to this feels a lot like hustle, so you choose spaciousness and trust the timing that this can wait a little longer. Your mind calls 'chicken' and tells you you're procrastinating / sabotaging – is this true?
To make this decision, stop what you're doing, sit down in a quiet spot, close your eyes, take 3 deep slow breaths down into your womb space and heart space, and notice how your body communicates with you about these options. 
Asking yourself the right questions and being open to what your body is communicating with you is so powerful.
What do you need right now in the moment to feel better?

What is your next move forward?

How will you lovingly respond to X situation whilst being true to yourself?

Are you living aligned to your values or not?

Is this really the best choice for you now?

What is this really about?

Is this your belief or someone elses?
And the decision is….
Picturing and feeling the energy of saying YES and saying NOT RIGHT NOW…. hold those in your body.

Which part of your body responds to these options? What is the quality of feeling or energy present? 

Notice what your heart and womb feel and respond to you. 

The one that feels the most pleasurable, expansive, trusting, joyful, creative and a whole body YES – that's your answer. 
It's a lifelong tool that will serve you so powerfully. YOU already have all the answers inside of you. You are already so wise, you know what it right, and what really feels good if you stop, breathe and listen to your body. There's no need to follow the pack – you don't need to please other people if it doesn't feel right inside. Listen to your inner compass, and you won't ever get lost in life.
And that's more than we can say for so many people, myself included. The amount of times I've reflected later on how I just KNEW it wasn't right, and I ignored my intuition. Duh!

 

 

Practice it now. What are you trying to decide? Create options A and B, sit quietly and breathe, imagine each option coming to life, and really pay attention to HOW your body feels. Is there a difference? You already know what to do…

 

Much love

CHARLOTTE POINTEAUX IS A WILD FEMININE CYCLE COACH GUIDING AWAKENED WOMEN TO RECLAIM THEIR BODY, WOMB WISDOM AND MENSTRUAL CYCLE TO LIVE, LOVE AND LEAD AS CYCLICAL GODDESSES. SHE GUIDES WOMEN THROUGH HER SIGNATURE COACHING PROCESS OF CYCLE AWARENESS X FEMININE EMBODIMENT X SHAMANIC INTUITIVE PROCESSES TO FIND THEIR FEMININE POWER TO CREATE A LIFE THAT NOURISHES, ACTIVATES AND FEELS EPIC ON ALL LEVELS. FIND OUT MORE AT WWW.CHARLOTTEPOINTEAUX.COM/COACHINg
Curious about deep diving with me to create your own incredibly powerful cyclic framework for creativity, productivity and cyclic self-care? I support soulful, creative entrepreneurial women to integrate cycle awareness into all the realms of your life, including your health, spiritual practice, parenting and creative business. Find out more and apply at www.charlottepointeaux.com/coaching