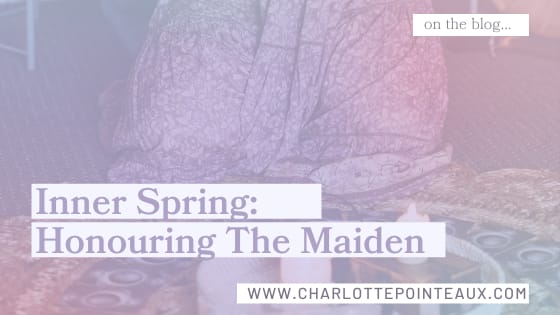 Inner Spring: Honouring The Maiden
Part two of our mini cycle phase deep dive series, this time about the second phase of your cycle, your pre-ovulation phase. Once your bleed ends and you feel yourself returning from your moon cave, your hormones rise and with that comes a potential for greater creativity, playfulness, planning and action. It can also bring one of two shadow aspects that I see mostly in the women I support: either a resistance to emerging back into the world, having not felt rested enough during your bleed, or, an urge to come racing back, going too hard too soon.
This phase is a beautiful mirror for the season of Spring, and of your inner Maiden archetype. Your Maiden can have youthful exuberance, hope and blind optimism, She can also struggle to know her place in the world. Often, challenges here hark back to your menarche, your first bleed, and are an echo of how you experienced your early years. Doing some inner work to look back at your maiden years can bring profound healing, an opportunity to transform, and change the life path ahead of you. Not just for yourself but for your children and their children too.
What You'll Learn
What's happening on a biological level during this phase.
What your natural energies may be.
More about the common challenges I see in my clients here.
How this connects to your maiden.
And I introduce my new online journey where you're invited to dive into your maiden and menarche experiences, to bring light, warmth, healing and a new relationship to your womb and rites of passage journey ahead of you.
LISTEN
If this episode lands with you, let me know! Your feedback, questions and aha moments help me create episodes that serve you, so drop me a message on Instagram or leave a review or rating!
If you love this kind of content, you're also invited to come and join my brand new free community – the Wild Flow Circle. It's a sacred space for women on the same path of cycle awareness to gather, share ideas, collaborate, and surround yourself with other inspiring women living, loving and leading in flow with their cyclical nature. Come join us here
CONNECT WITH CHARLOTTE
Thanks so much,

Curious about deep diving with me to create your own incredibly powerful cyclic framework for creativity, productivity and cyclic self-care? I support soulful, creative entrepreneurial women to integrate cycle awareness into all the realms of your life, including your health, spiritual practice, parenting and creative business. Find out more and apply at www.charlottepointeaux.com/coaching