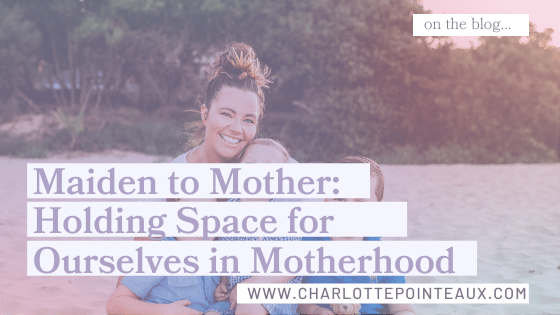 Maiden to Mother:
Holding Space for Ourselves in Motherhood
As the saying goes, there are no manuals provided when it comes to becoming a parent. Our culture really lets parents down – especially mothers – during the rite of passage which takes us out of our Maidenhood via pregnancy and birth into new Motherhood.
The function of a rite of passage is to prepare people to successfully take on the new role and identity successfully. When this isn't done, we are set up for feeling like a failure because we just don't know what to expect, nor how to handle to huge, overwhelming emotions that come with new parenthood.
When we become pregnant, all the education offered zones right in on how to navigate birth – and that's about it. Popular baby showers focus on sharing gifts for the baby. Home-based prep is on getting the right clothes, nursery, and ideal pram. All eyes are on the growing bump, and when the baby is born, all excitement is overwhelmingly abuzz about the sweet new baby. But when we're obsessing over how we raise the baby, who is concerned with raising the Mother?
In this episode I had a powerful conversation with Alita Blanchard, who is a mother of 4 young boys (including a stillborn son Remy) on the NSW Central Coast. Alita is a trauma informed Conscious Parent Coach, Emotional Release Coach, Women's Circle and Rites of Passage facilitator, and she is passionate about creating a safe space for mothers to feel heard and seen in the intensity of their motherhood journey. She supports and guides mothers in their transformation through motherhood and helps to bring awareness to their own needs and emotions so they can feel more aligned, aware and connected to themselves and their children.
What You'll Learn
What conscious / aware parenting principles are,

How culturally in the West we are and are not prepared and initiated into Motherhood well and what the impacts of this are,

Why Mothers need help to be able to process and release emotions so much,
Occasions and triggers when Mothers commonly struggle most and what we can do to support ourselves,
How Alita's work is so profoundly different to what is widely available and how she guides women to heal their own experiences, and in turn feel like the Mother they desire to be.
LISTEN
If this episode lands with you, let me know! Your feedback, questions and aha moments help me create episodes that serve you, so drop me a message on Instagram or leave a review or rating!
If you love this kind of content, you're also invited to come and join my brand new free community – the Wild Flow Circle. It's a sacred space for women on the same path of cycle awareness to gather, share ideas, collaborate, and surround yourself with other inspiring women living, loving and leading in flow with their cyclical nature. Come join us here
CONNECT WITH ALITA
CONNECT WITH CHARLOTTE
Thanks so much,

Curious about deep diving with me to create your own incredibly powerful cyclic framework for creativity, productivity and cyclic self-care? I support soulful, creative entrepreneurial women to integrate cycle awareness into all the realms of your life, including your health, spiritual practice, parenting and creative business. Find out more and apply at www.charlottepointeaux.com/coaching