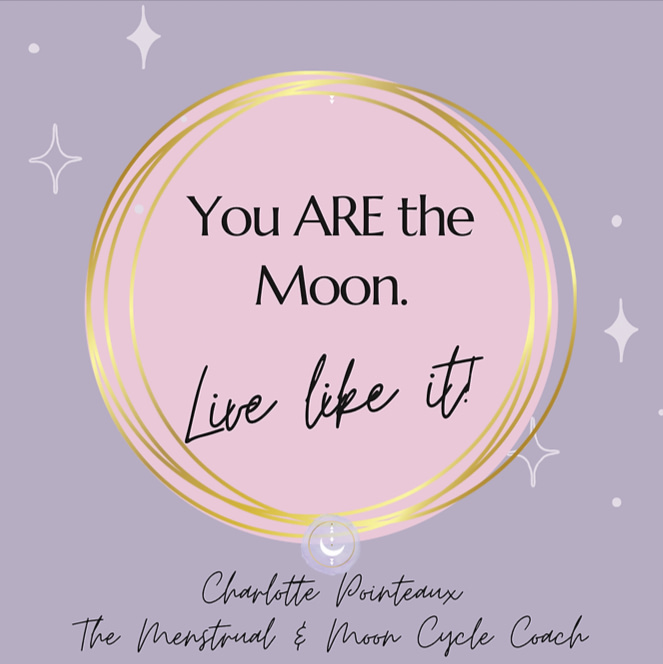 Hormones get a bad rap by anyone who doesn't understand their cyclic power, the role they play in creation and creativity, and anyone who finds them inconvenient, which includes many women and girls, as well as males.
However hormones are such a gift! As female hormones change across the cycle, day to day, week to week, we see a beautiful rhythm emerge that really clearly mirrors the moons phases and nature's seasons. These layers of cycles (menstrual, moon, sun, and seasons) show us how we are meant to live: in a way that honours the cycle and our humanity. We aren't robots. We are moons. So let's live as we are meant to.
These cycles show us how to get the best out of ourselves if we can listen.
It would show businesses how to maximise the productivity and creativity of their menstruating staff if they could listen!
And as female creatives, coaches, healers and entrepreneurs who are our own boss and make our own rules, it's vital we don't fall into the trap of following the same old masculine structure we've been born into. Because it was built for men with their male-pattern of daily hormones – not us monthly moons.
It's widely known and accepted that males do in fact wake, eat, sleep, do, and repeat on pretty much the same rhythm each day (give or take slight seasonal variation). Their energy level and hormone level is consistent, and it means that their ability to perform at work is consistent, with stable energy, focus, moods day in day out.
Women however simply aren't created this way. Our hormone pattern shifts day to day, week to week, month to month. We simply don't wake up the same person as we were yesterday, much to man's confusion.
This means that when it comes to #worklife, productivity and creativity, we can't expect to map out our days in the way we've been shown how. We actually need to factor in the menstrual cycle to support us to get the best out of ourselves. Because the menstrual phase is not the time for attending lengthy meetings, or pitching sales. And the ovulatory phase is not the optimal time for detailed editing or planning work.
We really ought to be permitted, hell, encouraged, to flex our tasks and our work hours around our own cycle. So as a woman running your own show, why not do this for yourself, and see just how much you life can change for the better!!
Building your life and biz around your menstrual cycle gives you a flexible structure that allows you to flow within it: to create the most amazing biz that honours your cycle, your needs and cyclic superpowers that emerge during each phase of your cycle, so you can flourish and succeed whilst enjoying your work!
Yet having no structure can leave you feeling messy, out of control, and overwhelmed pretty quickly when you're your own boss, yet too strict a structure denies your need for fluidity and flexibility. So getting that perfect balance that is customised to you and your cycle is the missing link to thriving in a man's world.
Cycle syncing your biz dishes you a high dose of:
Clarity ✔️
Organisation ✔️
Super-charged creativity ✔️
Flexibility ✔️
Optimises your productivity ✔️
Stops you burning out ✔️
Banishes overwhelm and pressure ✔️
Rest, slow days, and permission to put your needs first always ✔️
I love sharing my creative, biz, and selfcare process and structure that underlies my own life with my 1:1 coaching clients, and letting you adapt it to suit your own cycle.
Want to hear more? Would this be this missing piece for you: to have the cycles embedded in all realms of your life? Find out more about how I can support you through 1:1 Menstrual and Moon Cycle coaching at www.charlottepointeaux.com/coaching
SHARE THE LOVE
If this blog lands with you, let me know! Your feedback, questions and aha moments help me create informative tips and content that serve you, so drop me a message on Instagram or listen to my Wild Flow Podcast for so much more on menstrual cycle awareness. 
If you love this kind of content, you're also invited to come and join my brand new free community – the Wild Flow Circle. It's a sacred space for women on the same path of cycle awareness to gather, share ideas, collaborate, and surround yourself with other inspiring women living, loving and leading in flow with their cyclical nature. Come join us here
What does money have to do with the menstrual cycle? It's surprising how much! This week's guest on Wild Flow Podcast with Charlotte Pointeaux is Cathy Lemire, The Menstrual Money Coach, is here to help us connect the dots between how our menstrual cycle influences our relationship, behaviours and attitudes around money, understand how our money stories play up across the phases of our cycle, and to take charge of our wealth!
Read More »
In today's new episode of Wild Flow Podcast we're talking about the myth of the inner critic with Melanie Swan.
Read More »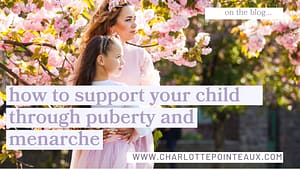 You've been learning about your menstrual cycle and how to attune to its changing daily strengths, vulnerabilities, and self-care needs – and it's been life changing to finally learn what you should have learnt as a child. So imagine how powerful it would be for our children to learn this knowledge and wisdom now – rather than having to figure it all out after many years of being disconnected to their body, their cycle and therefore, themselves. If you'd love to share what you now know with your child or any other child for that matter but aren't sure of when or how to start, I'd love to give you some ideas to help you do that confidently in a way that feels gentle, age-appropriate, and empowering for you and your child.
Many mothers have traditionally thought that children aren't ready to learn about their body, how it changes, what menstruation is, or anything else associated with puberty until they have their first period but when we leave "the talk" until this time, children already have a lot of feelings, thoughts and confusion about what's been happening to their body and sense of selves for a while, and they question what these changes mean about them if they are left in the dark.
Children in the playground talk and share information that's usually incomplete or inaccurate, leaving children to piece the story together themselves. Schools deliver education that's most often squashed down in one or two hours total to combine information on what periods are and how to manage blood, anatomy and how reproduction works which sends children the message that having periods means that falling pregnant is something to fear, and that when they begin their periods, they're ready to have sex, which is not the case at all from a developmental point of view.
When talking about periods is so uncomfortable, it continues the menstrual taboo that we have been victims of for millennia. So how do we cultivate a period positive culture?
Read More »