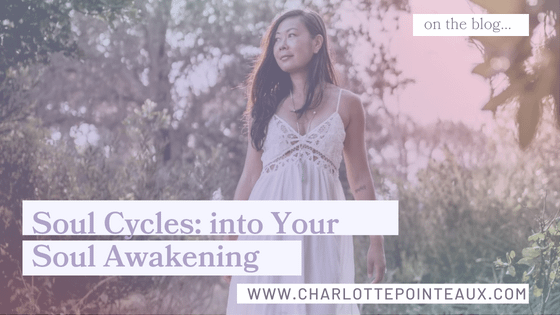 You have your inner embodied cycles, nature's cycles around you, but what else? Guest Katara Sky is a guide for people journeying (willingly or not!) on the descent into their soul's initiation, or awakening, which is when the ego dissolves and big questions about what life is all for anyway, are asked.
Beyond who you think you are, what you do, and the stage of life you're at, you may or may not have an experience that prompts you to question everything and come face to face with your deepest, truest essence: your soul.
Katara shares us with what the soul is, and how it differs to spirit, and what the soul journey is. She explains how many people never have a soul awakening, even if they want to find their "soul purpose". And Katara shares how we can find and create support for ourselves in the biggest journey of all, our soul journey.
What your soul is and how you might relate or connect to it.

The difference between spirit and soul

What the soul journey is, and why we never finish it!

How to know where in your own soul journey you are right now.

How to surrender to the descent and dissolution of your ego on your "dark night of the soul".

How support, community and mentors can help affirm and witness your process.

How past lifetimes relate to your soul journey, what happens in a past life experience, getting out of your own sceptical way, and healing patterns from old lifetimes.

Karma and the karmic wheel, and Katara's view on embracing the good and bad, light and shadows, without spiritually bypassing the significance of your shadow.
Katara is a DreamMaker, Soul Activator, an educator and intuitive mentor and guide. She's a woman of fire, here to ignite the Fire of your Dreams, help you meet your Soul and Awaken yourself. Her vision is that we all live our individual dreams, embody our sacred place of belonging in the world and take part in weaving the Dreams of the Earth. By doing this, generations after us can live in greater connection with themselves, their ancestors, land and all their relations.
Katara is a Soulseeker just like you. She's found her place of belonging by speaking her truths, educating about consciousness and the deep realms of Soul and Dreams. We live in a time where many of us are disconnected from ourselves, disconnected from our inner worlds of Soul and Dreams, and thus asleep to our divine purpose or place in the world.
Katara is a shamanic being, striving to live in union with all of Nature and the Cosmos. She comes from the stars and is here to bring the simple message of Unconditional Love and Acceptance. She is a student of Life, and brings to you the perennial wisdom traditions such as Shamanism, Energy Medicine, Hypnotherapy, Qi Gong and Yoga.
SHARE THE LOVE
If this episode lands with you, let me know! Your feedback, questions and aha moments help me create episodes that serve you, so drop me a message on Instagram or leave a review or rating!
If you love this kind of content, you're also invited to come and join my brand new free community – the Wild Flow Circle. It's a sacred space for women on the same path of cycle awareness to gather, share ideas, collaborate, and surround yourself with other inspiring women living, loving and leading in flow with their cyclical nature. Come join us here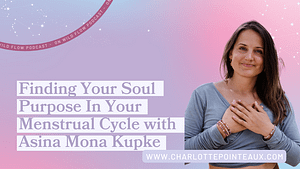 In today's new episode of Wild Flow Podcast I'm chatting with Asina Mona Kupke all about reconnecting to your cyclical nature to tap into your soul's purpose.
Read More »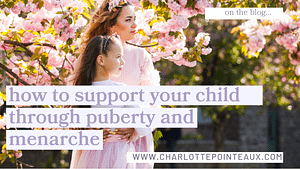 You've been learning about your menstrual cycle and how to attune to its changing daily strengths, vulnerabilities, and self-care needs – and it's been life changing to finally learn what you should have learnt as a child. So imagine how powerful it would be for our children to learn this knowledge and wisdom now – rather than having to figure it all out after many years of being disconnected to their body, their cycle and therefore, themselves. If you'd love to share what you now know with your child or any other child for that matter but aren't sure of when or how to start, I'd love to give you some ideas to help you do that confidently in a way that feels gentle, age-appropriate, and empowering for you and your child.
Many mothers have traditionally thought that children aren't ready to learn about their body, how it changes, what menstruation is, or anything else associated with puberty until they have their first period but when we leave "the talk" until this time, children already have a lot of feelings, thoughts and confusion about what's been happening to their body and sense of selves for a while, and they question what these changes mean about them if they are left in the dark.
Children in the playground talk and share information that's usually incomplete or inaccurate, leaving children to piece the story together themselves. Schools deliver education that's most often squashed down in one or two hours total to combine information on what periods are and how to manage blood, anatomy and how reproduction works which sends children the message that having periods means that falling pregnant is something to fear, and that when they begin their periods, they're ready to have sex, which is not the case at all from a developmental point of view.
When talking about periods is so uncomfortable, it continues the menstrual taboo that we have been victims of for millennia. So how do we cultivate a period positive culture?
Read More »
Today's guest on Wild Flow is here to expand the horizons on who gets to participate in menstrual cycle awareness, and to specifically include people who identify as neurodivergent, queer and those who aren't tapping into their body's rhythm for fertility purposes.
Read More »