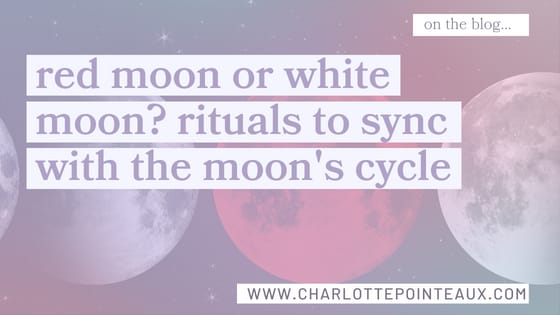 red moon or white moon? rituals to sync with the moon's cycle – on wild flow podcast with Charlotte Pointeaux. In this solo episode of Wild Flow Podcast, I share with you why I love the Moon so much! I offer Menstrual and Moon Cycle Coaching so its safe to say that I love guiding women to connect with the Moon's cycle, and how we can harness her magick to bring cyclical awareness to life, especially if you don't have a menstrual cycle. Tune in to hear What the phases of the moon cycle are and how it mirrors the menstrual cycle,
Why the moon is honoured in many cultures as a Feminine energy,
Rituals for working with the moon,
What it means if you bleed or ovulate with the Full Moon, and
How to sync your cycle with the moon, if you choose to.