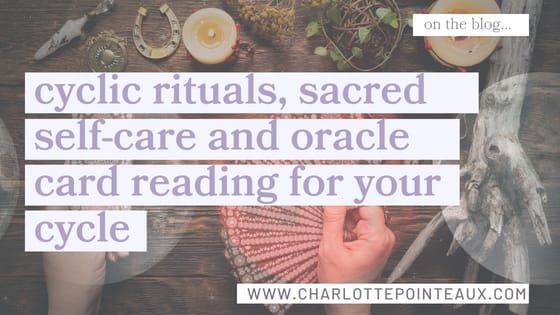 In this episode of Wild Flow Podcast I sat down for a delicious conversation with my friend Clare Foale, a writer, an artist, a teacher, a space holder, a tapping practitioner, a questioner and an ocean-lover. Clare and I met originally in cycle facilitator training with Mitle Southey, and shared visions and journeys whilst we sat next to each other. I loved her earrings and beautifully warm wisdom and laugh. 
Since then Clare has trained with me to become a Certified First Moon Circle Facilitator, and Clare has claimed her creativity by, amongst other things, dreaming and birthing her magickal oracle card deck called Spacious, which is all about honouring our desires, needs, and sacred selves. 
What menstrual / cycle awareness means to both of us,
How we can use incredibly simple reflective questions to support us through the more challenging as well as expansive moments of our menstrual cycles, and daily life as women, mothers, space holders,
Why Clare does not like the term self-care and her own personal practice that she finds infinitely more nourishing instead,
She looks back at the last decade of her life from turning 30 to turning 40, and shares the love notes of wisdom she shares with her younger self,
And Clare offers us an oracle card reading from her new card deck Spacious to hold space for ourselves through the four phases of our next menstrual cycle. This is a beautiful menstrual cycle awareness ritual!