Amanda Bond is a wild edge walker, a woman living literally on the edge of a continent, who has met the edges of her identity, her roles as wife, mother and daughter, of her menstrual cycle, and the edge of the natural wild within her and around. 
Amanda is a certified Nature & Forest Therapy Guide, a circle facilitator and she has been a practitioner of vibrational, earth-based, rooted, compassionate, heart-centred therapies for 18 years. 
Amanda offers relational guidance in reconnecting with nature, self, others and the earth, and after receiving a message from a glacier on the South Island of Aoteroa, she began to get to know the plant realms in early 2015. 
As Amanda navigates the depths of her grief, many sudden life shattering moments of life as she knew it giving way, she has found solace, safety and wholeness in nature. In this episode of Wild Flow we wandered through themes including:
how living on the edge has given Amanda the ability to self-regulate and safety especially in relation to supporting her sensitivity and neurodivegence, 
her pain at not being held by others in her experiences of profound loss, and how she found safe places to feel, cry and release in nature,
the earth as mother who can help us come back to wholeness
medicine walks, vision quests and forest therapy as tools for grounding, reconnecting, opening up our senses and inner healing,
menstrual cycle issues as manifestations of loss and grief, and nature's regulating effects,
crowning ceremonies and how Amanda is feeling the call to be initiated into her Cronedom. 
and what the wisdom of the cycles has offered Amanda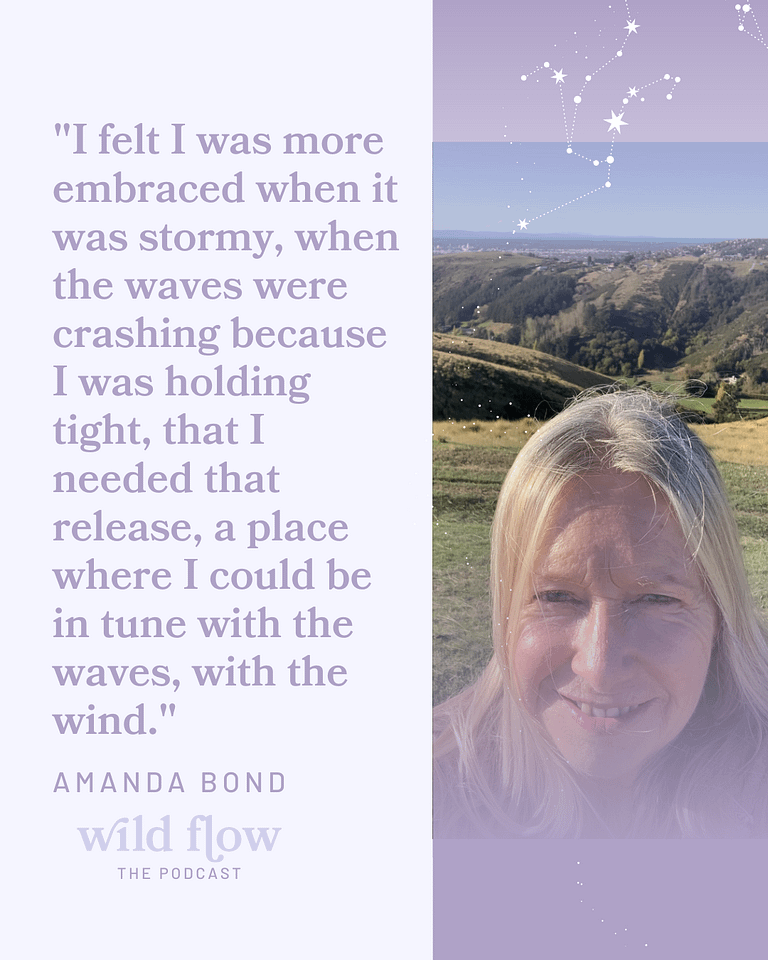 Amanda is a certified Nature & Forest Therapy Guide, a circle facilitator and she has been a practitioner of vibrational, earth-based, rooted, compassionate, heart-centred therapies for 18 years. 
SHARE THE LOVE
If this episode lands with you, let me know! Your feedback, questions and aha moments help me create episodes that serve you, so drop me a message on Instagram or leave a review or rating!
If you love this kind of content, you're also invited to come and join my brand new free community – the Wild Flow Circle. It's a sacred space for women on the same path of cycle awareness to gather, share ideas, collaborate, and surround yourself with other inspiring women living, loving and leading in flow with their cyclical nature. Come join us here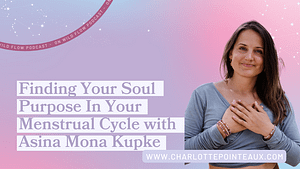 In today's new episode of Wild Flow Podcast I'm chatting with Asina Mona Kupke all about reconnecting to your cyclical nature to tap into your soul's purpose.
Read More »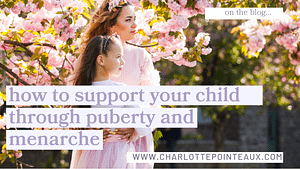 You've been learning about your menstrual cycle and how to attune to its changing daily strengths, vulnerabilities, and self-care needs – and it's been life changing to finally learn what you should have learnt as a child. So imagine how powerful it would be for our children to learn this knowledge and wisdom now – rather than having to figure it all out after many years of being disconnected to their body, their cycle and therefore, themselves. If you'd love to share what you now know with your child or any other child for that matter but aren't sure of when or how to start, I'd love to give you some ideas to help you do that confidently in a way that feels gentle, age-appropriate, and empowering for you and your child.
Many mothers have traditionally thought that children aren't ready to learn about their body, how it changes, what menstruation is, or anything else associated with puberty until they have their first period but when we leave "the talk" until this time, children already have a lot of feelings, thoughts and confusion about what's been happening to their body and sense of selves for a while, and they question what these changes mean about them if they are left in the dark.
Children in the playground talk and share information that's usually incomplete or inaccurate, leaving children to piece the story together themselves. Schools deliver education that's most often squashed down in one or two hours total to combine information on what periods are and how to manage blood, anatomy and how reproduction works which sends children the message that having periods means that falling pregnant is something to fear, and that when they begin their periods, they're ready to have sex, which is not the case at all from a developmental point of view.
When talking about periods is so uncomfortable, it continues the menstrual taboo that we have been victims of for millennia. So how do we cultivate a period positive culture?
Read More »
Today's guest on Wild Flow is here to expand the horizons on who gets to participate in menstrual cycle awareness, and to specifically include people who identify as neurodivergent, queer and those who aren't tapping into their body's rhythm for fertility purposes.
Read More »