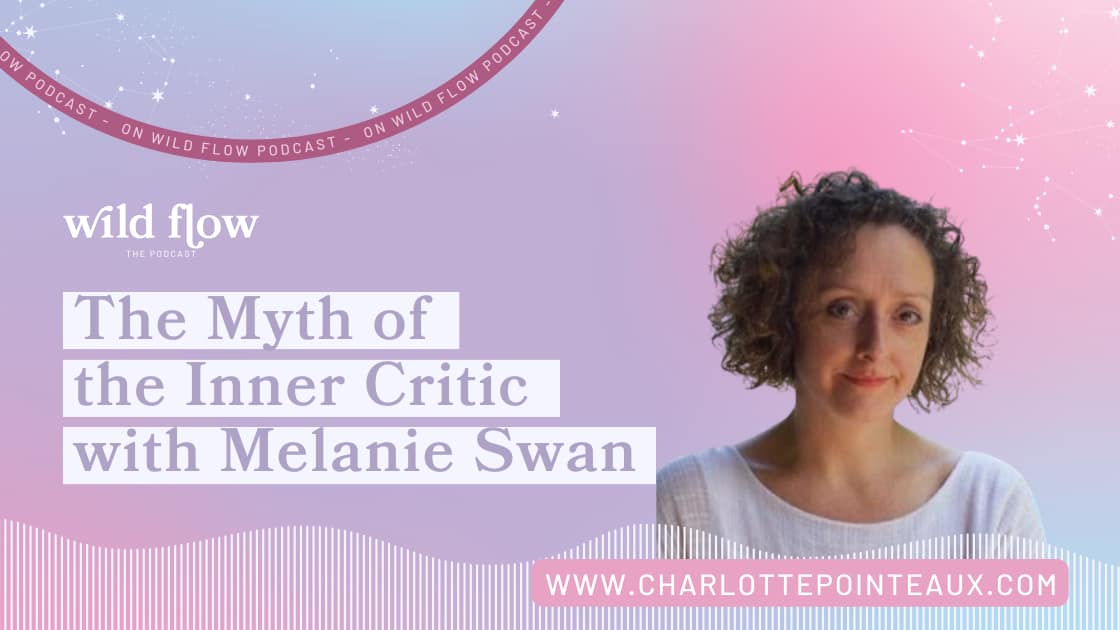 This week we're myth-busting! The Inner Critic is a popular name for that inner voice who is known to tear us down when we're 'PMNS-ing', but Melanie Swan, womb medicine woman at @the_sacred_womb wants to realise this isn't normal, its not something we should learn to work with, but is in fact one way trauma shows up in our menstrual cycle.
Melanie and I are talking about this myth of the inner critic: why it happens, how to heal it, and Melanie shares an easy, practical, beautiful exercise that you can do straight away towards the end of this episode to connect in with your womb and this voice.
Melanie goes deep on:
How this inner critic has evolved into being, and why we relate to this voice as an inner critic,

How it's related to trauma that's held in the body, and

How we can work through patterns that are coming up in this lifetime and past lifetimes as well to understand the origin of this inner critic,

As well as how to release it's hold from our lives and cycles.
So if you experience what you call an inner critic voice, particularly in the pre-menstrual phase of your cycle – or at any other phase as well – then this is going to be a really great one to listen to.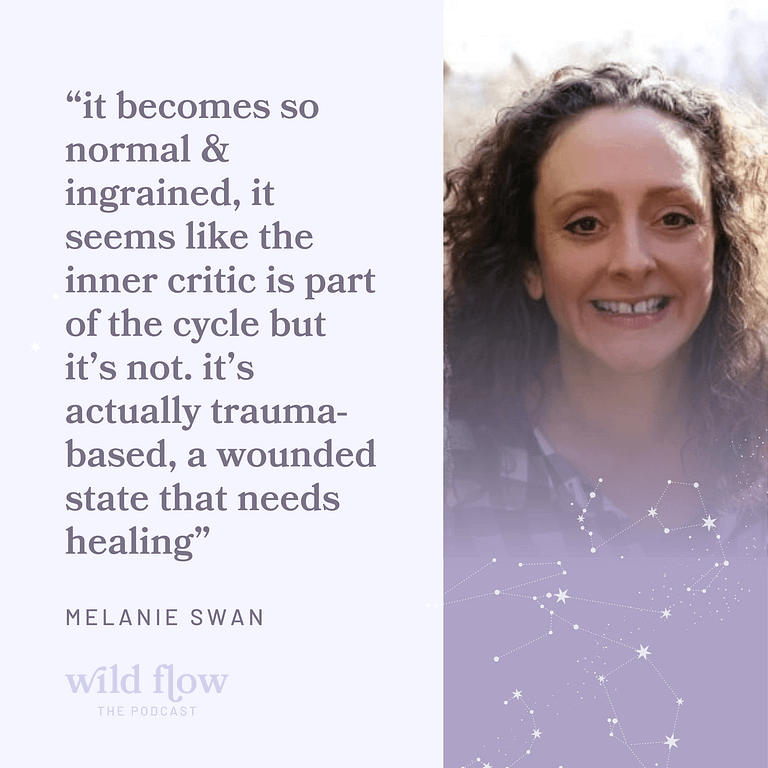 Let me introduce Mel. Besides being a Midland gal from the UK like me, Melanie is a Womb Medicine Woman and Multi-dimensional trauma healer who helps women to come home to their true nature by embodying the multi-faceted menstrual cycle, healing multi-dimensional trauma & co-creating with the divine through the portal of the Womb.
Share with us both here in the comments what you learnt from this episode? How does your inner critic show up? Can you connect with it as trauma? Has it felt like something you just have to accept and live with? Are you curious about past life healing through the womb?
Happy listening! Don't forget to subscribe and please share with a cycle sister, leave a rating, or even better yet, a review.
Thank you!
Charlotte xxx
SHARE THE LOVE
If this episode lands with you, let me know! Your feedback, questions and aha moments help me create episodes that serve you, so drop me a message on Instagram or leave a review or rating!
If you love this kind of content, you're also invited to come and join my brand new free community – the Wild Flow Circle. It's a sacred space for women on the same path of cycle awareness to gather, share ideas, collaborate, and surround yourself with other inspiring women living, loving and leading in flow with their cyclical nature. Come join us here
What does money have to do with the menstrual cycle? It's surprising how much! This week's guest on Wild Flow Podcast with Charlotte Pointeaux is Cathy Lemire, The Menstrual Money Coach, is here to help us connect the dots between how our menstrual cycle influences our relationship, behaviours and attitudes around money, understand how our money stories play up across the phases of our cycle, and to take charge of our wealth!
Read More »
In today's new episode of Wild Flow Podcast we're talking about the myth of the inner critic with Melanie Swan.
Read More »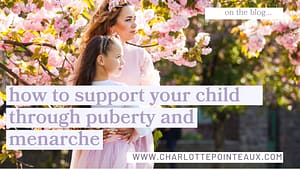 You've been learning about your menstrual cycle and how to attune to its changing daily strengths, vulnerabilities, and self-care needs – and it's been life changing to finally learn what you should have learnt as a child. So imagine how powerful it would be for our children to learn this knowledge and wisdom now – rather than having to figure it all out after many years of being disconnected to their body, their cycle and therefore, themselves. If you'd love to share what you now know with your child or any other child for that matter but aren't sure of when or how to start, I'd love to give you some ideas to help you do that confidently in a way that feels gentle, age-appropriate, and empowering for you and your child.
Many mothers have traditionally thought that children aren't ready to learn about their body, how it changes, what menstruation is, or anything else associated with puberty until they have their first period but when we leave "the talk" until this time, children already have a lot of feelings, thoughts and confusion about what's been happening to their body and sense of selves for a while, and they question what these changes mean about them if they are left in the dark.
Children in the playground talk and share information that's usually incomplete or inaccurate, leaving children to piece the story together themselves. Schools deliver education that's most often squashed down in one or two hours total to combine information on what periods are and how to manage blood, anatomy and how reproduction works which sends children the message that having periods means that falling pregnant is something to fear, and that when they begin their periods, they're ready to have sex, which is not the case at all from a developmental point of view.
When talking about periods is so uncomfortable, it continues the menstrual taboo that we have been victims of for millennia. So how do we cultivate a period positive culture?
Read More »