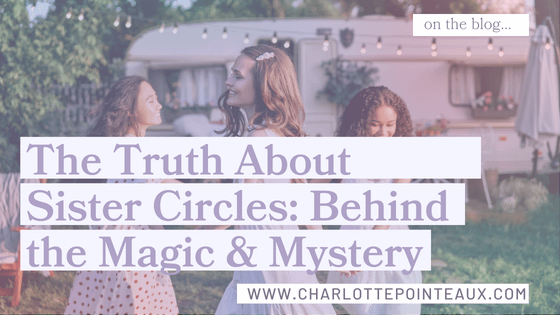 Spells, crystal balls, and howling at the moon, that's what happens in circle, isn't it?
If you've not been to one yet, you might have some curious ideas about what really goes on at a women's circle, your imagination running amok thinking of wild women letting loose, conjuring up all kinds of magic. So if you're curious, intrigued, but unsure, and a bit wary, then I'd love to bust some myths and clear up what it's all about, because circles are joy, and you deserve to join one.
A brief history of circles
Women have come together to share stories, wisdom, support and encouragement in circle for thousands of years, before slowly our way was lost, eroded, hidden. Modern women's gatherings might look more like meetings in cafes, to sewing circles, mothers groups or going out for dinner and drinks. But recently, there has been a huge reclamation of women's circle in its original sense. Now circles are coming back into the mainstream, you've got the chance to join us at your local circle here in the Southern Highlands NSW with me, Charlotte! 
Because I know that we aren't raised knowing what circles are, what happens, and how to simply be in circle, I want to help you feel confident and ready to attend your first one. So let's get into it, let's bust some myths and get to the heart of what circles are…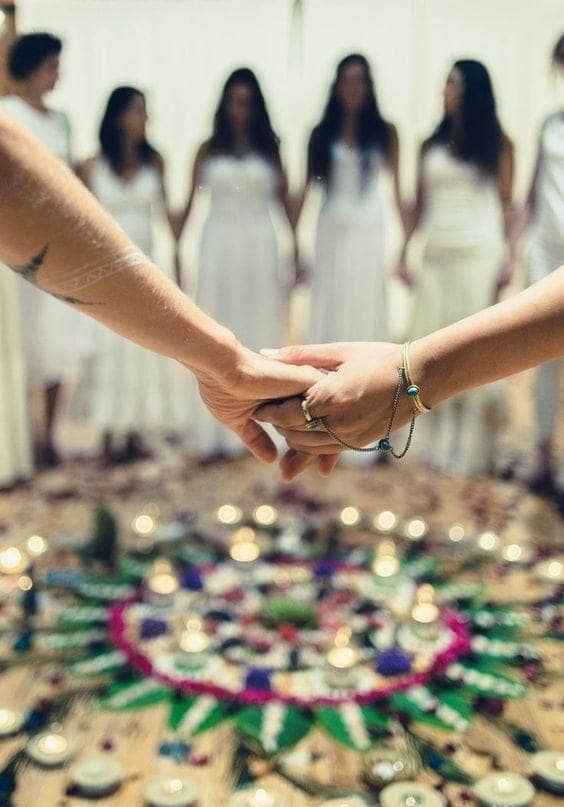 Myth 1: it's full of scary witches and spooky psychics, a place where spells are cast and fortunes told
Truth: Women's Circles are the place for anyone who identifies as female to come together for self-care time.
My women's circle is just for adult women, witches are certainly welcome, but this is not a Magick or Wiccan Circle. Over time our circle has certainly deepened into spirituality, and I bring an earth and cycle-based lens to our circle so we can tune into what's present for us, so we can ground, and be held. 
Some women who attend identify as being more in tune with their intuition, their spirituality, their empathic nature or even their witchiness, and that's ok, we are all in a safe container of the circle to be ourselves. 
Yes we do burn a little incense, light candles, bring crystals, and we do carry out beautiful, heartfelt rituals to bring intention to our activities, and w

e may set intentions, do fire releasing, embodiment practices and go on guided meditations called shamanic journeys which I lead with words, music and my medicine drum. So yet it can get quite witchy, but its not only for people who are attuned to 

any form of

 

spirituality. 
The focus is on being present with yourself, with each other and sharing in your current experience of being you in your life, and making sure you leave feeling a little lighter, more loved, and connected to yourself and like-minded women so you can go back to your life and thrive.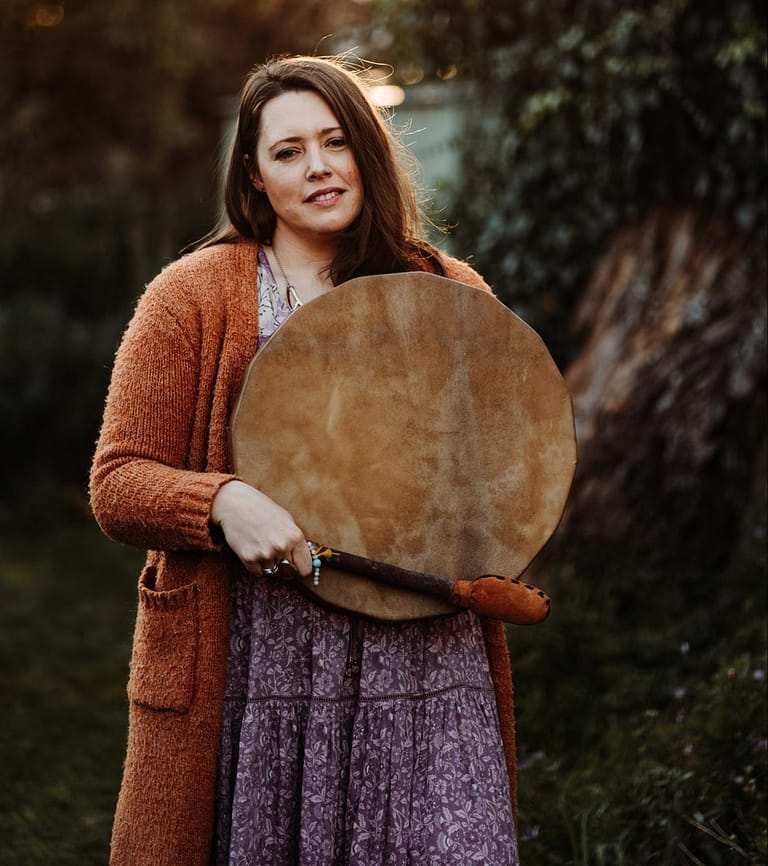 Myth 2: Oh no, I'm going to be forced to bare my soul, aren't I? Don't make me!
Truth: Absolutely not. Our circle is about self-reflection, and we do hold a sharing circle where we hold space for each person to share their stories, their feelings, their day, or what they're working through right now. 
To make sure this is a safe space full of trust, love and respect we set firm guidelines at the start of the night. We insist on one person speaking at a time whilst others listen, that we share and listen from the heart, and total confidentiality: what is shared stays in circle at all times.
However you are empowered to make your own choice about whether you do share, and how much you share. It's your call. You are asked to share with discernment, that is, only share what feels right for you to share in that space, and nothing that you will regret sharing. This is about trusting yourself, and building trust and confidence in other women, our sisterhood. And this is a judgement-free zone too. Circle is a very powerful practice in learning to trust yourself, to trust other women, and to allow others to support and hear you, which is something we don't get much of in this modern, noisy world. 
Myth 3: I'm not very sociable, I'm introverted, or I don't get along well with women, so I won't fit in.
Truth: wrong! This is YOUR space and you are as equal and welcome here as anyone else could ever be. 
If you've had a bad day, or aren't feeling sociable or like coming, then I'd say you need to come even more! This space is your medicine, a place to be met in your wholeness, mess and all.
Come as you are -how you feel in that exact moment is perfect. As women we cycle and one day we'll be flying high, another day we'll be feeling low and slow. And all of it is perfect. You're enough just as you are! We are your village, you'll find true, deep, soulful connection here, you'll be accepted and supported wherever you're at. In this safe, supported space you're able to learn to trust women again and find meaningful, heart-centred connection with like-minded souls.
Myth 4: It's like group therapy isn't it?
Truth: no it's very different, although circle can be therapeutic.
As a trained, trauma-informed circle facilitator I hold powerful, healing and transformational space for women to come together for a night of connection with other beautiful like-minded women, and me-time all rolled into one. 
In circle we can reflect on our personal challenges and growth, 
what's
 troubling or blocking us, as well as celebrate all the highs and magick around us. But no its not a heavy place of everyone's troubles. It's about being 
unapologetically
 you. 
We work with the concept of 'healer heal thyself', and trust that everyone has the capacity to know 
what
 they need, and to seek it for themselves. 
Circle isn't a place of being coached, fixed, counselled or advised. It's a place of deep listening to ourselves and others. 
If you're working through some deep issues personally then may I suggest that you seek professional guidance to address that with a professional.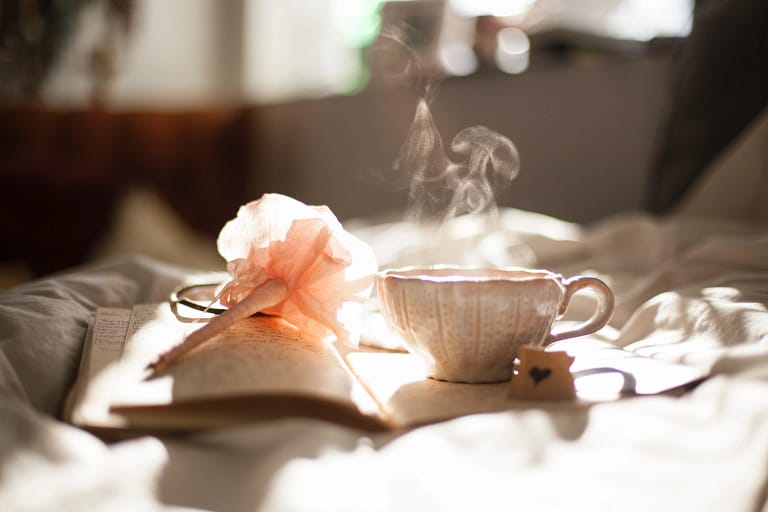 So what do we actually DO??
Every circle is different depending on the time of year: what the season, moon and themes are at the time, but the format will be the same.
We start with a welcoming meditation to arrive together in the room, I lead you through a group practice around our theme, bringing reflection and insight into where we're at that night,
I'll guide you on a deep meditation / shamanic journey to feel into the theme and reflection prompts more deeply in an embodied way (what does your body say, not just your head).
Then we hold a sharing circle where we each are given space to speak inside the group – without judgement. This is where we learn to trust our own voices, the power of vulnerability, and connect deeply with each other. Friendships and transformations are born! We close with a lovely ritual of releasing what's holding us back, and setting intentions for the new month ahead, and then we drink tea, eat chocolate, and have a good old natter. 
What can be better than that?

how do women feel after going to circle?
this is the good bit: women who are brand new to circle, as well as women who've been coming to my circles for 5 years all feel very similar when they leave: grateful, loved, calmer, grounded, relieved, held, heard, understood and more resilient to go back into their everyday. 
some women wonder why they didn't come sooner. some feel a bit challenged by what they discovered about themselves in circle and know which aspect of their lives they need to put their loving energy into next. some feel exhilarated, others ready for bed, mostly just very happy, at peace, and full of love after from all the high love hormone (oxytocin) levels which flow! 
here's what some women have said about coming to my circles… 
"It was so wonderful to be surrounded by amazing like minded women, all sharing the same desire to connect. I feel very honored to be at the beginning of this wonderful circle journey and I'm ready to dive in next month! Thank you." - SuzieI've really learnt to listen to my body's wisdom and work with my cycle. I learnt so much from the experience - just thank you so much for everything you put into our series. You're a wonderful coach and I hope to work with you again in the future."
Suzie
"Charlotte's Sister Circles gave me a place and space to hit the pause button on life and tune in to myself .... my feelings, thoughts, needs, hopes, fears and dreams. I always left our sessions feeling relaxed, lighter, balanced, hopeful and most importantly, connected - to my inner-self, the other women in circle and the divine power of sisterhood that comes with honest sharing."
Lauren
"My time in Charlotte's circle is always reflective, insightful and deeply connected. The warm, loving and thoughtful space she creates is unlike anything else. Spending time to nurture myself while being surrounded by women in a beautiful safe space is exactly what I need each month to fill my cup."
Kylie
so maybe I'll see you at my next circle!! 
if you're a YES to coming along, find out when I'm hosting my next women's circle on my event calendar, and book yourself in! Tickets are limited to ensure an imitate space so all women feel heard and held, and tickets sell out early. I can't wait t see you there!
SHARE THE LOVE
If this blog lands with you, let me know! Your feedback, questions and aha moments help me create informative tips and content that serve you, so drop me a message on Instagram or listen to my Wild Flow Podcast for so much more on menstrual cycle awareness. 
If you love this kind of content, you're also invited to come and join my brand new free community – the Wild Flow Circle. It's a sacred space for women on the same path of cycle awareness to gather, share ideas, collaborate, and surround yourself with other inspiring women living, loving and leading in flow with their cyclical nature. Come join us here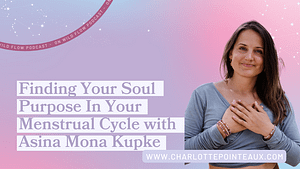 In today's new episode of Wild Flow Podcast I'm chatting with Asina Mona Kupke all about reconnecting to your cyclical nature to tap into your soul's purpose.
Read More »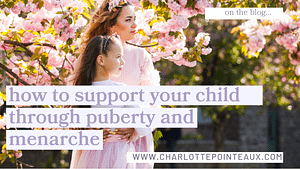 You've been learning about your menstrual cycle and how to attune to its changing daily strengths, vulnerabilities, and self-care needs – and it's been life changing to finally learn what you should have learnt as a child. So imagine how powerful it would be for our children to learn this knowledge and wisdom now – rather than having to figure it all out after many years of being disconnected to their body, their cycle and therefore, themselves. If you'd love to share what you now know with your child or any other child for that matter but aren't sure of when or how to start, I'd love to give you some ideas to help you do that confidently in a way that feels gentle, age-appropriate, and empowering for you and your child.
Many mothers have traditionally thought that children aren't ready to learn about their body, how it changes, what menstruation is, or anything else associated with puberty until they have their first period but when we leave "the talk" until this time, children already have a lot of feelings, thoughts and confusion about what's been happening to their body and sense of selves for a while, and they question what these changes mean about them if they are left in the dark.
Children in the playground talk and share information that's usually incomplete or inaccurate, leaving children to piece the story together themselves. Schools deliver education that's most often squashed down in one or two hours total to combine information on what periods are and how to manage blood, anatomy and how reproduction works which sends children the message that having periods means that falling pregnant is something to fear, and that when they begin their periods, they're ready to have sex, which is not the case at all from a developmental point of view.
When talking about periods is so uncomfortable, it continues the menstrual taboo that we have been victims of for millennia. So how do we cultivate a period positive culture?
Read More »
Today's guest on Wild Flow is here to expand the horizons on who gets to participate in menstrual cycle awareness, and to specifically include people who identify as neurodivergent, queer and those who aren't tapping into their body's rhythm for fertility purposes.
Read More »