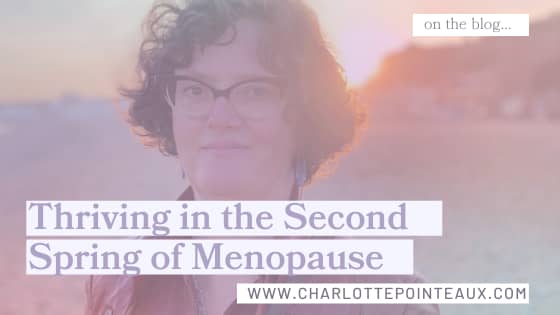 Thriving in the Second Spring of Menopause
Menopause is such a shamed and unspoken experience for many generations of women who receive the messaging that it's not possible to thrive post menopause, and that ageing is a terrible thing. Whilst it can bring physical, mental, emotional and spiritual experiences that are unpleasant, menopause is not the end of the road.
My guest Kate Codrington is a few years post menopause and is here to tell us that its possible to feel well, enjoy life and flourish on the other side of our menstrual cycling years. In her new book 'Second Spring: The Self-Care Guide to Menopause' Kate helps us re-frame menopause and brings the radical notion that with small changes and a clear-eyed look at what's no longer serving you, you can reclaim your vitality and joy in life.
What You'll Learn
How Kate connects with her cyclical nature whilst in menopause, once her menstrual cycle has ended for good, via the creative, daily, lunar and seasonal cycles.

How seasonal awareness is deeply supporting Kate during menopause and how she knows which seasonal energy she is in at any time by checking inwards to how she feels in her body.

Real-world examples of how Kate embodies her inner energy when not able to sync with her menstrual cycle anymore.

The concept, beauty and gift of understanding the Second Spring, Summer, Autumn and Winter in the second half of life between menopause and death.

The absolute gift of Yoga Nidra and its medicine for menopause, and her free recordings you can access on her website.

About her new book 'Second Spring: the self-care guide to Menopause' which guides women to thrive during a culturally shamed season of life.
LISTEN
If this episode lands with you, let me know! Your feedback, questions and aha moments help me create episodes that serve you, so drop me a message on Instagram or leave a review or rating!
If you love this kind of content, you're also invited to come and join my brand new free community – the Wild Flow Circle. It's a sacred space for women on the same path of cycle awareness to gather, share ideas, collaborate, and surround yourself with other inspiring women living, loving and leading in flow with their cyclical nature. Come join us here
About Kate
Kate is a mentor, speaker, facilitator, artist, writer and has been a therapist for 30 years. A pioneering spirit, Kate was the first to graduate as a Menstruality Medicine Circle facilitator, is the host of Life – An Inside Job podcast, created the multi-level art textile project The Pants of Empowerment and Threads of Friendship, and creates seasonal Yoga Nidra inspired by the land where she lives in Hertfordshire. With Leora Leboff she co-founded Woman Kind facilitating retreats for menstruating and menopausal folk to build more kindness into their lives. When she's not doing these things you'll find her playing in her compost heaps.
Connect with Kate
CONNECT WITH CHARLOTTE
love, 

Work with me
Curious about deep diving with me to create your own incredibly powerful cyclic framework for creativity, productivity and cyclic self-care?
I support soulful, creative entrepreneurial women to integrate cycle awareness into all the realms of your life, including your health, spiritual practice, parenting and creative business. Find out more and apply at here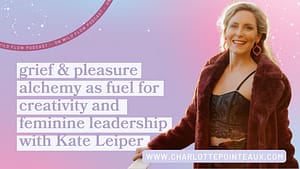 My guest on the new episode of Wild Flow podcast and our grief guide is a woman I had the absolute pleasure of being guided, held and introduced to the embodied experience of pleasure at a time I was knee-deep in motherhood and re-discovering myself as a mother of three, back in 2020, and needing to come home to myself on the other side of a big personal transformation. Allow me to introduce you to Kate Leiper.
Read More »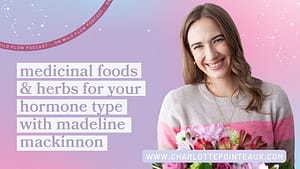 My guest on the new episode of Wild Flow podcast is Madeline MacKinnon who wants everyone to know that food truly is powerful medicine that can quickly improve your menstrual cycle symptoms and challenges which you've been putting up with, when you understand your underlying hormonal imbalance type and eat nourishing foods full of the right vitamins and nutrients that your body needs.
Read More »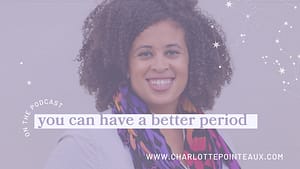 My guest on the new episode of Wild Flow podcast is Le'Nise Brothers a yoga teacher and registered nutritionist, mBANT, mCNHC, specialising in women's health, hormones and the menstrual cycle. Le'Nise works with women through their menstruating years, perimenopause, menopause and beyond. She set up her private nutrition practice Eat Love Move to help empower and educate women to understand their bodies, advocate for better healthcare and heal. If you're struggling with period problems, you might be wondering why some women love their period and menstrual cycle, and you might be questioning whether you too, can have a better period.
Read More »