Pleasure. What is pleasure? 
Does the word fill you with shame, guilt or uneasy feelings? Do you feel like pleasure isn't for you, not a priority? Does this potent word conjure up thoughts of sex and intimacy, or do you connect with pleasure in other ways too?
Pleasure is so much more than this, and my guest on Wild Flow the Podcast, Rowena Hobbins, is here to invite you to reframe pleasure as an essential, deep, healing part of your path to your empowerment.  In fact she's here to invite you to join the Pleasure Club!
This juicy chat with my soul sister and biz bestie dives deep into: 
Our own personal relationships, attitudes and experiences of pleasure both in the past and present, 

What pleasure means to us, and what it means to you, and why it's not all about orgasms,

What blocks you from relating to and accessing pleasure, 

Why you can't open to pleasure until you've done the deep inner work, looking at childhood patterns and conditioning around pleasure first,

Why pleasure is essential to cultivate and learn to hold in your body,  and how this missing link has been life changing for both of us

and how Rowena is on a mission to invite women to reclaim their pleasure birthright in her new Pleasure Club in 2023 (this sounds seriously amazing!)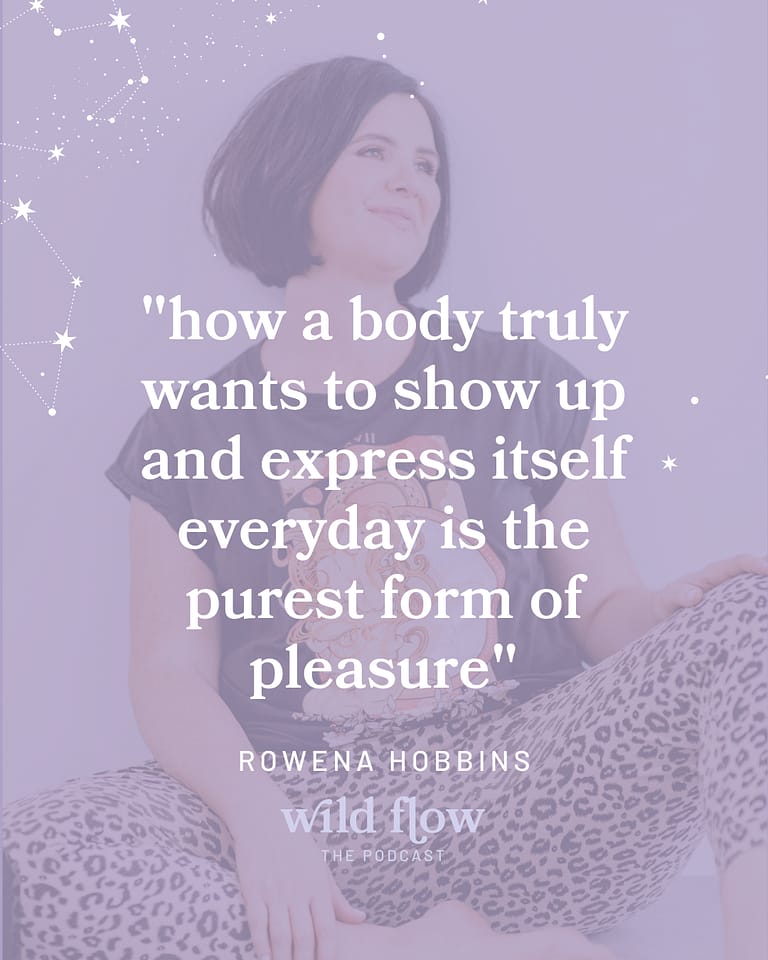 If you have been a caregiver or even a Mum you will understand how everyone else's needs can become a priority – but what about when your own needs aren't met at the most primitive level of pleasure? 
Rowena Hobbins, a certified life coach shows women how to identify parts of their story that has encumbered their own needs of feeling deep joy and PLEASURE.
Rowena's background was originally working as a well respected teacher and mentor for other teachers and training as well as a literacy expert and working with children who we neurodivergent of nearly a decade.
Shortly after birthing her children, she realised it was more advantageous to use her skills to become an expert working with other male dominated industries and with her husband has run successful past and current  award winning, multi million dollar businesses, a retreat stay business and also a thought leader to change the face of how business is always family first in order in particular, support her neurodivergent child by working in round about hours.
As a business women and owner,  she has learned how to deal with extreme ups and downs as well as noticed how difficult men in the industry find it hard to tap into their own emotions unless through some physical space of either pleasure or even work.
As an extremely busy women holding many plates, she shares her experiences of how the pandemic and personal struggles with anxiety have lead her to deeply embody her own pleasure by recognising a common pattern of women ignoring their invitation into pleasure and having it "dick – tated" to them.
Rowena has a degree in psychology, masters in educational practice as well as a certified life coach, energy healer, sacred circle facilitator, breathworker, sound healer and also a first moon faciliator and advocates strongly for woman defining who they are by speaking their truth.  She holds space currently for women and men who are on their healing journey and has operated, up until now,  all from word of mouth for intuitive readings.
She is a truth seeker in this lifetime, shedding many wounds as she has journeyed with Charlotte this year with coaching and honouring stories of inner abandonment to open to full blown pleasure.  Rowena is opening doors to the Pleasure club for women to join in and to experience a redefinition of what pleasure looks like.
SHARE THE LOVE
If this episode lands with you, let me know! Your feedback, questions and aha moments help me create episodes that serve you, so drop me a message on Instagram or leave a review or rating!
If you love this kind of content, you're also invited to come and join my brand new free community – the Wild Flow Circle. It's a sacred space for women on the same path of cycle awareness to gather, share ideas, collaborate, and surround yourself with other inspiring women living, loving and leading in flow with their cyclical nature. Come join us here
What does money have to do with the menstrual cycle? It's surprising how much! This week's guest on Wild Flow Podcast with Charlotte Pointeaux is Cathy Lemire, The Menstrual Money Coach, is here to help us connect the dots between how our menstrual cycle influences our relationship, behaviours and attitudes around money, understand how our money stories play up across the phases of our cycle, and to take charge of our wealth!
Read More »
In today's new episode of Wild Flow Podcast we're talking about the myth of the inner critic with Melanie Swan.
Read More »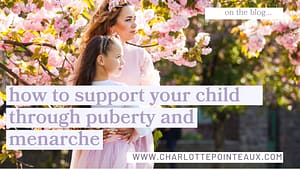 You've been learning about your menstrual cycle and how to attune to its changing daily strengths, vulnerabilities, and self-care needs – and it's been life changing to finally learn what you should have learnt as a child. So imagine how powerful it would be for our children to learn this knowledge and wisdom now – rather than having to figure it all out after many years of being disconnected to their body, their cycle and therefore, themselves. If you'd love to share what you now know with your child or any other child for that matter but aren't sure of when or how to start, I'd love to give you some ideas to help you do that confidently in a way that feels gentle, age-appropriate, and empowering for you and your child.
Many mothers have traditionally thought that children aren't ready to learn about their body, how it changes, what menstruation is, or anything else associated with puberty until they have their first period but when we leave "the talk" until this time, children already have a lot of feelings, thoughts and confusion about what's been happening to their body and sense of selves for a while, and they question what these changes mean about them if they are left in the dark.
Children in the playground talk and share information that's usually incomplete or inaccurate, leaving children to piece the story together themselves. Schools deliver education that's most often squashed down in one or two hours total to combine information on what periods are and how to manage blood, anatomy and how reproduction works which sends children the message that having periods means that falling pregnant is something to fear, and that when they begin their periods, they're ready to have sex, which is not the case at all from a developmental point of view.
When talking about periods is so uncomfortable, it continues the menstrual taboo that we have been victims of for millennia. So how do we cultivate a period positive culture?
Read More »