What does the colour of your flow tell you?
Did you know that the colour of your blood can vary from person to person and even between cycles?
I used to have deep dark almost purple-red blood with clots and clumps. It was heavy, I had lots of painful cramps, and I would have a migraine for a few days.
Since the return of my bleed about 6 months ago, my blood is entirely different. It's bright, vibrant, cranberry red. There have been no clots or chunks and best of all it's been absolutely pain-free. I have had a bit of a headache on day 2 of both recent bleeds – but it's fair to say that on both of these days I have been holding circles! How is that for timing, 🤷‍♀️ my cycles are still really irregular postpartum, my last was 6 weeks long so I wasn't able to predict when my bleed was due, to make sure I could rest for the first few days.
Because sometimes life can't just stop because you're bleeding.
But was DOES make a difference and what has made a difference to me includes:
✨ Factoring in slow resting times around the existing commitment
✨ Allowing myself to be "unproductive" just before and during my bleed – so, welcoming and embracing the spacey feels, the lack of focus, and using it instead for dreaming and visioning purposes
✨ Delegating as much housework as possible and telling my husband and family that I need their nurturing right now (amazing how tender kids under 5 can be when you share this with them)
✨ Working with a naturopath to supplement – in my case Iron, Magnesium, Zinc, and a stunning plant medicine bespoke brew crafted by my naturopath
@conscious.womanhood
✨ Using embodiment practices including movement, breathing, sounding, and womb self-massage, hip circles, gentle yoga, dancing, and lots of lying on the bare earth. This helps me connect to the power, needs, and expression of my body, so I can ask what my body needs instead of tuning her out and soldiering on.
There's a whole chart on what colour your blood is and what that means by
@crystalkennings
And Cassandra Wilder @menstruationqueen shared this image on her Instagram to demonstrate which coloured blood may be indicative on hormonal imbalances or infection.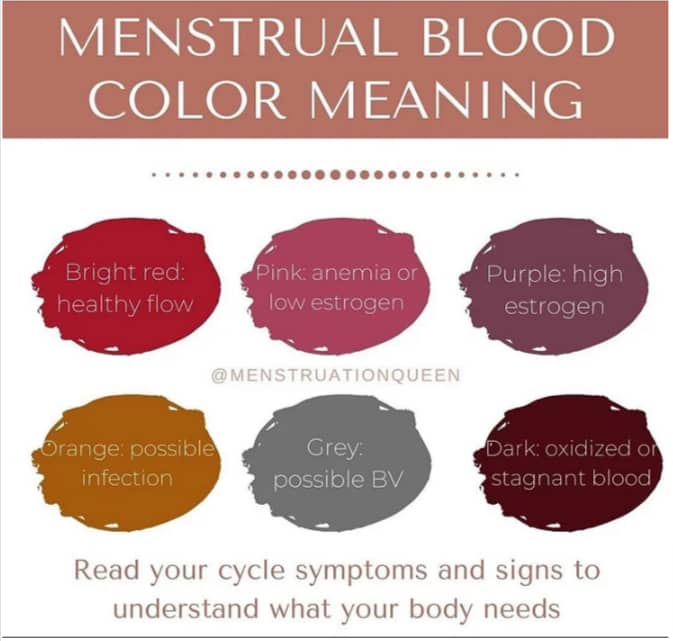 So if you're having painful cramps or a heavy flow, consider for starters permitting yourself to slow right down and consciously bleed. And if symptoms continue, consult a naturopath or GP for tailored support.
SHARE THE LOVE
If this blog lands with you, let me know! Your feedback, questions and aha moments help me create informative tips and content that serve you, so drop me a message on Instagram or listen to my Wild Flow Podcast for so much more on menstrual cycle awareness. 
If you love this kind of content, you're also invited to come and join my brand new free community – the Wild Flow Circle. It's a sacred space for women on the same path of cycle awareness to gather, share ideas, collaborate, and surround yourself with other inspiring women living, loving and leading in flow with their cyclical nature. Come join us here
What does money have to do with the menstrual cycle? It's surprising how much! This week's guest on Wild Flow Podcast with Charlotte Pointeaux is Cathy Lemire, The Menstrual Money Coach, is here to help us connect the dots between how our menstrual cycle influences our relationship, behaviours and attitudes around money, understand how our money stories play up across the phases of our cycle, and to take charge of our wealth!
Read More »
In today's new episode of Wild Flow Podcast we're talking about the myth of the inner critic with Melanie Swan.
Read More »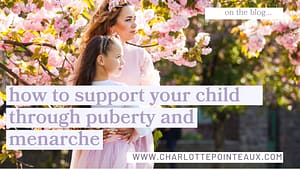 You've been learning about your menstrual cycle and how to attune to its changing daily strengths, vulnerabilities, and self-care needs – and it's been life changing to finally learn what you should have learnt as a child. So imagine how powerful it would be for our children to learn this knowledge and wisdom now – rather than having to figure it all out after many years of being disconnected to their body, their cycle and therefore, themselves. If you'd love to share what you now know with your child or any other child for that matter but aren't sure of when or how to start, I'd love to give you some ideas to help you do that confidently in a way that feels gentle, age-appropriate, and empowering for you and your child.
Many mothers have traditionally thought that children aren't ready to learn about their body, how it changes, what menstruation is, or anything else associated with puberty until they have their first period but when we leave "the talk" until this time, children already have a lot of feelings, thoughts and confusion about what's been happening to their body and sense of selves for a while, and they question what these changes mean about them if they are left in the dark.
Children in the playground talk and share information that's usually incomplete or inaccurate, leaving children to piece the story together themselves. Schools deliver education that's most often squashed down in one or two hours total to combine information on what periods are and how to manage blood, anatomy and how reproduction works which sends children the message that having periods means that falling pregnant is something to fear, and that when they begin their periods, they're ready to have sex, which is not the case at all from a developmental point of view.
When talking about periods is so uncomfortable, it continues the menstrual taboo that we have been victims of for millennia. So how do we cultivate a period positive culture?
Read More »