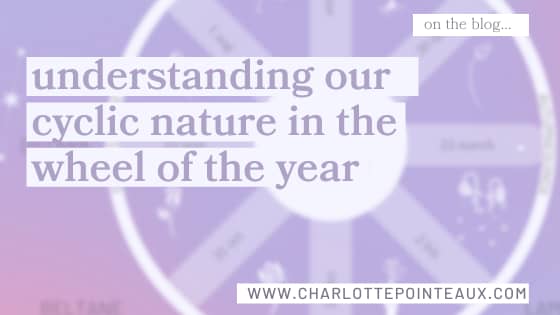 The wheel of the year asks us to pay close, meaningful attention to the ever-turning seasons of the year, and invites us into a mindfulness practice of observing the 8 traditionally honoured sabbats.
Occurring every 6 weeks all year long, it's amazing to realise that we don't just have four seasons, there are actually 8 different energies at play. And where I live, the traditional custodians of the land, the Gundungurra people know there to be 6 seasons in the year. 
In ancient times and traditional cultures, people lived in alignment with the 8 seasonal sabbats (festivals) of the year. Its how farmers knew when to plant, harvest and leave the earth bare. It's how people knew when to tend the land, harvest fruits, and preserve stores ahead of a long winter. Nowadays we have lost this connection to the land because we don't need it to survive: instead we can get food all year round, flown in from anywhere, so we never have to care for the land and what we need. 
Traditional ways like this have been eroded by industrialisation, in search of what's cheapest and most convenient. But this comes at a great cost. The soils are depleted, we are not getting the nourishment we need, climate change is almost at the breaking point of no return, and we are seeing extinctions at an unbelievable rate. 
All because we forgot that we ARE nature: inside and out. 
When we lose sight of ourselves as nature, we forget that we have inner seasons, we change everyday, and that this is a biological process necessary for our health and vitality. 
Understanding the wheel of the year has given me a much deeper cycle awareness and stronger appreciation of the earth and nature's innate wisdom – everything in the year happens at just the right time, for a reason.
Honouring the opportunities available at any time and allowing time to prepare for what's next.
I see that Winter is cold, bare, barren: but beneath, the roots are digging deep (Yule). Then towards the end of winter, the first stems are poking through the soil, reaching for the light: hyacinths, crocus, bluebells (Imbolc).
I see that Spring starts with daffs and tulips coming out (Ostara), then the cherry blossoms, and then more flowers and sprouts as it gets warmer and the air fills with perfume (Beltane).
Summer has a very different energy at the start to the end. Litha is hot, dry, flowers are in full bloom, veggies are growing and the bees are abuzz in the air. And by Lammas, the grass has gone gold: dry, crisp. Flowers are fading. Humidity has arrived. Crops are approaching first harvest.
Autumn can feel like an Indian summer at first, with the very early leaves dropping and warm days (Mabon), harvest time. And then, by the end of Autumn, it's cold, the fires are on, it's compost time, it really feels like everything has decayed, dropped and has entered hibernation (Samhain).
Suddenly the the year doesn't seem as long when there is much to notice and often.
Suddenly the seasons take on more meaning as I understand how farmers have always lived, worked and grown to this calendar. And I realise the deep connection humans have always had to the earth.
We aren't separate. We feel different at each of these points too. If we can tune in, that is.
Take some time today to stop, notice, observe, reflect and embrace the cycles within and around you. They're everywhere! 
The problem comes when we DON'T live a cyclical life, when we believe we are different and override our inner cyclical nature that needs a rest from time to time! 
How to work with the Wheel of the Year
1. Know your hemisphere to map your dates
 Whether you're in the Northern or Southern Hemisphere determines when you experience each of the seasons, and therefore each of the 8 sabbats. 
For example, Spring in the North is early in the year, in March, April and May. However in the South its 6 months later beginning in September until November. 
If you live in a climate where you don't really experience four seasons, if you live in a tropical zone for example, then you might not relate so much to the light / dark, hot / cold cycle and instead notice the wet / dry cycle.
2. where in the wheel are you right now?
Check the dates of the wheel in the image above, if you're in the Southern Hemisphere, and if you're in the North look to the opposite side of the wheel to today's date. 
Notice how you feel: do you feel the same on the inside as the outer season suggests? It's so curious to notice that at Mabon we do feel like we've ended summer and are coming into Autumn, even if its not in full swing yet. But come Samhain, its darker, colder and we do feel far less like going out partying. Is that true for you? 
Now notice if you are embodying the current seasonal energy, or if you're fighting against it. For example if it's Yule are you hating the cold, wishing it was Summer and making yourself stay busy, active and social? Is that behaviour serving you and your health or not? Why are you fighting against it? How could you lean into the season more? 
3. follow the cues in the wheel to know how to live a cyclical life
When you follow the cues set by each point in the wheel of the year, you get clues about how to live. For example, in Winter at Yule we are quiet, inwards, cosied up, when all in nature is dormant. This is time for endings, having wrapped the year up we celebrate (this is Christmas in the Northern Hemisphere) and spend time with precious family. Spring is new beginnings and watching our seeds come to life as new projects. Its a magical time of new life, when everything bursts into bloom. Then Summer is about being social, enjoying the sun, warmth and abundance, and being out in the world. Autumn is a time of harvest: wrapping up, preserving the goods and composting waste. 
4. chart your menstrual cycle if you have one.
Notice how your own inner four seasons make you feel very different to the others. You have your own roadmap for living cyclically within your menstrual cycle. (Have you learned about this yet? If not my short course Find Your Flow helps you map and understand how to work with your menstrual cycle!). 
Now, taking clues from the wheel of the year, can you notice that each of your own inner 4 seasons of your menstrual cycle actually has 8 different energies at play? The start and end of each inner season feel different to the next! When you notice this in yourself you can give yourself proper love and self-care to flourish. 
It is always worth noticing and asking yourself where in the Earth's seasons you are right now, seeing how it lines up with your menstrual cycle phase too, and tuning into how that feels for you. When its Summer outside but you're in your Inner Winter (bleeding time), that is a whole different vibe to Ovulating in Summer when life feels so fun and good, and who knows what might happen!
And when its Winter and you're bleeding, I bet you want nothing more than to wrap yourself up in blankets, sip hot chocolate, nap and watch Netflix. Am I right?
---
We are nature – the Earth is a mirror for how we feel and what we need, so tune in and follow this guide for radical self-care across your menstrual cycle. 
Print off the maps above if you like, or save them to your phone, and if you want to go deeper into cyclical living, check out my short course Find Your Flow, or my ebook Simply Sacred Self-Care for all you need to live a cyclical life. 
Love,

PSSSST!
Curious about deep diving with me to create your own incredibly powerful cyclic framework for creativity, productivity and cyclic self-care? I support soulful, creative entrepreneurial women to integrate cycle awareness into all the realms of your life, including your health, spiritual practice, parenting and creative business. Find out more and apply at www.charlottepointeaux.com/coaching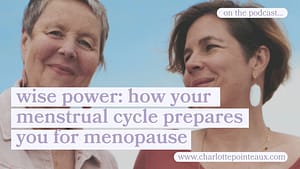 Your menstrual cycle is teaching you how to work with your inner power, ready to become a wise woman at menopause. The wise women founders of Red School Alexandra Pope and Sjanie Hugo Wurlitzer have released their cutting edge book Wise Power: Discover the Liberating Power of Menopause to Awaken Authority, Purpose and Belonging. I'm THRILLED to have had the opportunity to chat with the authors and Menstruality leaders about how we can practice menstrual cycle awareness as a lifestyle that ultimately builds our self-trust, resilience, and capacity for presence, so that when the time comes, we can surrender, die and be reborn through the "mother of all initiations" that is Menopause.
Read More »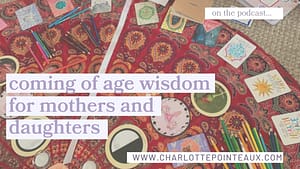 imagine a world where mothers were given sacred space to welcome their daughters intentionally into their coming of age rite of passage. and where girls were welcomed into circle with other mothers and daughters to find deep wisdom, loving support and a chance to experience true sisterhood all before their 13th birthday. there is a place on earth: it's called the seeding wisdom journey held annually in the illawarra (nsw) by wise women arahni lion and jo rockendorfer. If you've ever wished you were more supported, more seen and heard, more understood and respected in your own maiden years, this is a truly special way of healing that part of you, and to give your child the best start to a conscious, empowered, embodied and connected womanhood. I know that when my daughters are of age, we will be taking the journey together, one by one.
Arahni and Jo share the story of why and how they created this potent experience, what happens within the journey, and why this kind of initiatory journey is needed now, more than ever.
Read More »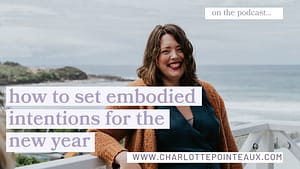 When you want to create real change, its important that you don't follow what you think you should be focusing on. instead, ask yourself what's true for you. how will you know? your body will tell you.
Have you picked a word for the year yet? A New Year's resolution? Is your year mapped out with strict timelines and a whole lotta hustle? Maybe so… But if this approach doesn't feel quite right to you, I'd love to offer you a different way: a more feminine, embodied, feelings-based way of setting intentions for the year ahead. In this episode I'm sharing my embodied intention-setting technique which I guide all my private wild feminine coaching clients through, so you can get crystal-clear, alive, juicy and deeply inspired to call in your most luscious year yet.
What's more, the cycle mysteries teach us that New Years Day is not the correct time to be declaring "New Year, New Me!". Instead, there's meant to be an in-built hibernation, restorative time to let the death of the last year complete, and the visioning and dreaming of the new year to occur before we rush in all guns blazing with our new habits.
I suggest we allow ourselves one Moon, until New Moon (22nd Jan 2023) to let our visions become clear, so we're sure we're choosing the right path that honours our capacity, desires, needs and energy, rather than overriding and pushing through. Let's resist the urge to overdo it and then quit at the first hurdle, all burnt out, and instead take a cyclical, embodied approach right from the get-go.
Read More »