Our culture glorifies busy.
"Oh you're such a busy bee" "Work hard, play hard." "Rest is for the wicked." "Earn your keep"
I've come to the end of a major cycle in my business after wrapping up my First Moon Circle Facilitator Training, 3 months with a 1:1 client, and holding what might be the last circle for the year – all within 3 days of each other.
And instead of feeling elated, on top of the world, so incredibly proud and CELEBRATING the hell out of it all, I'm finding myself in forced isolation at home due to COVID, experiencing broken websites and now a broken phone, feeling flat and frustrated.
You see, I've been journalling today and unravelling why I've been finding it so hard to celebrate my amazing achievements. I've received the most amazing feedback from the facilitators and I seriously couldn't be more delighted with how its all gone. BUT I'm feeling myself stuck in that lull phase between projects.
Sound familiar to you?
It's because we glorify busy. We celebrate and applaud full schedules and never-ending creation. We idolise those who are always on the go, always running around, always showing up and being everything to everyone.
As a culture we just don't do rest well at all, do we.
If we don't slow down, we burn out. If we don't jump off the hamster wheel, life passes us by without us really living.
If we don't stop and smell the roses, we won't appreciate the fruits of our labour, and we end up missing out on what we really want, what really matters, and the point of our life entirely.
And yet rest – that quiet reflective space in-between – is absolutely essential for new life, new work, for health and innovation. Your worth is not defined by your busyness. It's defined by the quality of what you do, which can only be improved by decent and consistent rest.
Cycle awareness for me has been a game changer because it's taught me the absolute value of rest, and has given me the authority to tune out all the (inner and outer) voices that want to call me lazy.
Honouring the cycles within me and around me has helped me reframe success, and my sense of self-worth. No longer do I measure myself by my outputs, but I instead value my quality of life by how much REST I allow myself to take and enjoy. Without placing any expectation or needing to get anything out of that rest!!
It is a practice. I am clearly still learning. But I believe that re-defining success not by our output or productivity but by how much we integrate meaningful rest time is one of the foundations to feeling happier, more fulfilled, and healthier.
Whether you bleed or not, living by the cycles can remind you of this. Flowers don't bloom all year. You don't either. It's New Moon today, the hallmark of the rest phase, the perfect time for resting and taking a great inhale, before the new cycle begins.
If you struggle with rest, feel you need to be hyper productive and giving all the time, and feel like you have no time for yourself, I can support you to work through this. And I'd love to – helping you ditch the programmed beliefs of what a successful, worthy woman looks like floats my boat, baby!
Curious? Read what's on offer at https://www.charlottepointeaux.com/coaching and to line up a chat with me. I'd love to support you to find more time for yourself, your self-care, your creativity and your rest!
Happy New Moon lovely, take it easy,
Charlotte xxx
SHARE THE LOVE
If this blog lands with you, let me know! Your feedback, questions and aha moments help me create informative tips and content that serve you, so drop me a message on Instagram or listen to my Wild Flow Podcast for so much more on menstrual cycle awareness. 
If you love this kind of content, you're also invited to come and join my brand new free community – the Wild Flow Circle. It's a sacred space for women on the same path of cycle awareness to gather, share ideas, collaborate, and surround yourself with other inspiring women living, loving and leading in flow with their cyclical nature. Come join us here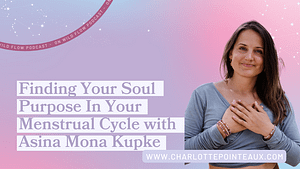 In today's new episode of Wild Flow Podcast I'm chatting with Asina Mona Kupke all about reconnecting to your cyclical nature to tap into your soul's purpose.
Read More »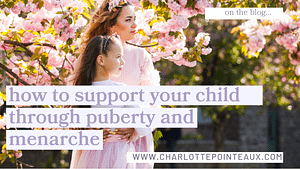 You've been learning about your menstrual cycle and how to attune to its changing daily strengths, vulnerabilities, and self-care needs – and it's been life changing to finally learn what you should have learnt as a child. So imagine how powerful it would be for our children to learn this knowledge and wisdom now – rather than having to figure it all out after many years of being disconnected to their body, their cycle and therefore, themselves. If you'd love to share what you now know with your child or any other child for that matter but aren't sure of when or how to start, I'd love to give you some ideas to help you do that confidently in a way that feels gentle, age-appropriate, and empowering for you and your child.
Many mothers have traditionally thought that children aren't ready to learn about their body, how it changes, what menstruation is, or anything else associated with puberty until they have their first period but when we leave "the talk" until this time, children already have a lot of feelings, thoughts and confusion about what's been happening to their body and sense of selves for a while, and they question what these changes mean about them if they are left in the dark.
Children in the playground talk and share information that's usually incomplete or inaccurate, leaving children to piece the story together themselves. Schools deliver education that's most often squashed down in one or two hours total to combine information on what periods are and how to manage blood, anatomy and how reproduction works which sends children the message that having periods means that falling pregnant is something to fear, and that when they begin their periods, they're ready to have sex, which is not the case at all from a developmental point of view.
When talking about periods is so uncomfortable, it continues the menstrual taboo that we have been victims of for millennia. So how do we cultivate a period positive culture?
Read More »
Today's guest on Wild Flow is here to expand the horizons on who gets to participate in menstrual cycle awareness, and to specifically include people who identify as neurodivergent, queer and those who aren't tapping into their body's rhythm for fertility purposes.
Read More »